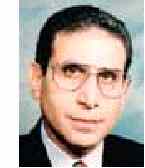 At its annual meeting in Cairo on March 7 the Philatelic Society of Egypt elected our member Dr Sherif Samra (ESC 311, right) to its presidency in succession to another of our members, Hisham Bassyouny (ESC 391), who had been President for a number of years and was instrumental in our visitors enjoying their trip to Egypt in October 2001 to such a great extent. The Egypt Study Circle thanks Hisham – who takes a place on the Board - for many services in the past, wishes both Sherif and Hisham all success and offers its help and co-operation wherever possible.

The PSE also has a new Secretary in Hany Salam (ESC 580), a fairly new member of ours but one who has already proved himself an active and indefatigable researcher. The new Vice President (Dr Sherif El-Far of Maadi) and Treasurer (Mourad Mounir of Dokki) are not ESC members, but the Board now includes three of our members including Hisham Bassyouny. The Board comprises: Hisham, Mohamed Yehia of Nasr City, Dr Ibrahim Shoukry (our Agent in Egypt, ESC 423), Dr Mohamed Adel Farid (ESC 495) and Dr Magdy Soliman of Moharrem Bey, Alexandria.

Our Egyptian colleagues are putting us to shame with their international exhibiting. No fewer than six Egyptian members of the Circle will be seeking medals in Washington, where the Egyptian Commissioner will be Dr Sherif Samra. They are:



Dr Mohamed Adel Farid – eight frames on Egypt Airmails 1910-1945
Mr Samir Fikry (ESC 311) – one frame on Postal History through the Canal Zone
Mr Hany Salam – five frames on Printing Development of the First Fuad Issue, 1922-23
Dr Sherif Samra – one frame on the 1879 Provisional Issue, 5 and 10 paras
Dr Ibrahim Shoukry – eight frames on the History of the Rural Service 1889-1939
Mr Lucien Toutounji (ESC 264) – eight frames on Egypt Airmail, 1910-1936


We wish them all success and hope one day to emulate them with half a dozen entries from UK!