Edmund Hall (ESC 239)


The miniature sheet for the joint commemorative issue between China and Egypt of July 13 2006. When it was issued two members spoke at the January meeting 2007 of their suspicions about this issue (see QC 220 p194), and speculated on its authenticity because it appeared that it could not be bought at the post office.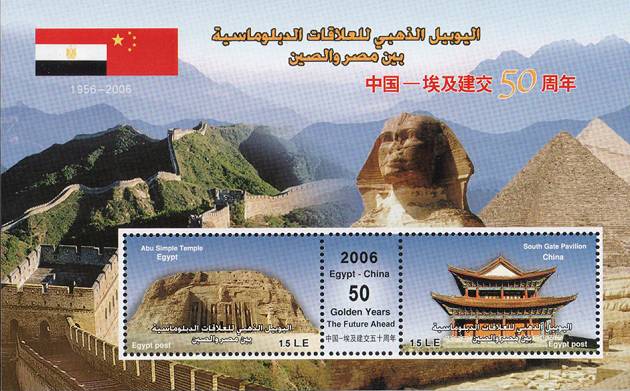 Since then it has been noted on the UPU-related authenticity website WNS as a genuine Egyptian issue and has been issued on the stuck-down year sheets issued by the Egyptian post office so there is no doubt that it should be classified as a genuine Egyptian item.

The official Chinese Peoples Daily newspaper stated at the time of issue:



Egypt, China issue commemorative stamps for golden jubilee of ties.
Egypt and China on Thursday jointly issued a collection of commemorative stamps and envelopes to mark the 50th anniversary of the establishment of the Sino-Egyptian diplomatic ties. Chinese Ambassador to Egypt Wu Sike, Board Chairman of Egypt Post Alaa Fahmy and Egyptian Assistant Foreign Minister for Asia Affairs Aly Houssam el-Hefny attended a ceremony held in the Egyptian capital Cairo to mark the issue of the stamps.

The Chinese and Egyptian officials exchanged their commemorative stamps and envelopes. Ambassador Wu, on behalf of the Chinese government, presented Egyptian officials with 200 commemorative envelopes and 210,000 stamps, which were designed by Egypt and made in China, while Fahmy presented Wu with 1,000 commemorative envelopes and other souvenirs. Wu said that issuing these stamps and envelopes was another evidence of friendship and cooperation between the two countries. "Since the two nations established the diplomatic ties 50 years ago, bilateral relations have developed smoothly and steadily and the Sino-Egyptian ties have become a model for relations among developing countries," said Wu.

He added that a successful visit to Egypt by Chinese Premier Wen Jiabao on June 17-18, during which the two sides signed 11 agreements and MOUs [memorandums of understanding - Ed], was set to help deepen the two countries' strategic relations of cooperation.

For his part, Fahmy said that a joint issue of commemorative stamps and envelopes was of great significance, which would be conducive to the development of the Egyptian-Sino relations. On May 30, 1956, China and Egypt officially declared the establishment of diplomatic relations, which made Egypt the first Arab and African country to have diplomatic ties with China.



An official Chinese Peoples Republic website also gives further information:



On May 30, 1956, the Arab Republic of Egypt established diplomatic relations with the People's Republic of China.

With a view to promote friendship between China and Egypt, the postal administrations of the two countries have decided to conduct the joint issue of a set of two-piece stamps featuring Ancient Gilded and Gold Masks on Oct. 12, 2001.

On Oct. 16, 2000, the two countries signed the memorandum of understanding on the joint issue in Cairo (capital of Egypt) and, on Feb. 27, 2001, signed the agreement on the jointly issue and decided on the best stamp design in Cairo. On Oct.12, 2001, the first-day issue ceremony was held in De Yang, Sichuan Province of China. Both China and Egypt are ancient civilized countries.

One piece of the joint-issue set of stamps shows the San Xingdui Ancient Gilded Mask of China and the other shows the Gold Mask of Tutankhamen of Egypt. Both are ancient valuable cultural relics of the two countries. The jointly issue is co-designed by Wang Huming, a Chinese stamp designer, and Saeid El-Badrawy, an Egyptian stamp designer.

The Sanxingdui Site is located in Guanghan, Sichuan Province. Since 1986, a great number of bronze, jade and gold articles, which belonged to the ancient Shu Kingdom in the Yangtze River valley 3,000 years ago were unearthed. The gilded mask showed in the stamp is one piece of curiosa among them. It is made of gold leaf with eyes and brows pierced. The bronze head wearing the golden mask takes on a quite vivid look.



This miniature sheet soon appeared on several websites, being offered as a great Egyptian rarity. Mention is made of the presentation ceremony and that these sheets were printed in China with a very limited print run of only 5,000 pieces. Attention is also drawn to the spelling of Abu Simple for the Abu Simbel temple and one cannot help wondering if the Chinese printers ran the wording through an over-helpful spell-checker. It is suggested that 3000-3500 pieces were used up, fulfilling UPU obligations, in supplying regular new issue customers and in making up the year sheets so that international dealers were issued only one miniature sheet for each ten sets of stamps. Some remaining stock was eventually sold to Egyptian dealers, who showed some alacrity in putting them on the internet for sale.

A few months ago a holographic plastic miniature sheet began to be offered by dealers in Egypt and Europe at quite a high price with suggestions that perhaps only 50 such items existed, but then in about May they were also offered by sources in China stating that 600-800 pieces were made in the Henan providence - and soon these were being offered in lots of 10 at a lower price then previously asked for one.

Pretty as they may be, I don't see them as genuine Egyptian philatelic items although one Chinese seller quotes "this is the rarest Egyptian stamp s/s issue".

China also issued stamps and a miniature sheet similar in design and a holographic miniature has also been produced.