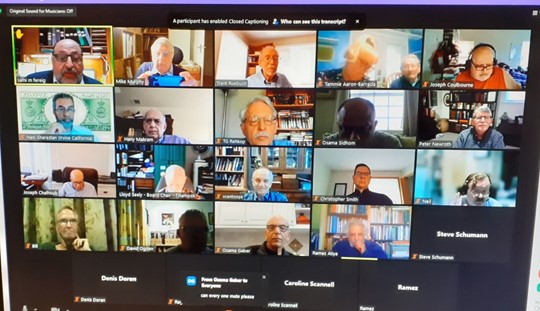 Among those attending the first ESC Zoom meeting were (top, from left): Sami Fereig, Mike Murphy, Trent Ruebush, Tammie Aaron Barrada, Joseph Coulbourne; second row, Hani Sharestan, Hany Makram, TG Rehkop, Osama Sidhom, Peter Newroth; third row, Joseph Chalhoub, Lloyd Seely, Vince Centonze, Christopher Smith, Neil Hitchens; bottom, Bill Barclay, David Ogden, Osama Gaber, Ramez Atiya.


A total of 23 members took part in the inaugural trial Zoom meeting of the Egypt Study Circle on the afternoon/evening of March 18, organised by Osama Gaber and Trent Ruebush, and with the crucial technical assistance of Joseph Coulbourne. The timing of the meeting – which lasted rather more than 90 minutes – was selected to suit members in the North America/Canada time zones, though three UK members (in a time zone some five hours ahead) were invited to attend as observers.

Although technical discrepancies between age, quality and standard of personal equipment ruled that a few members were unable to communicate fully, the meeting was an undoubted success, allowing in many cases members to put faces to names long communicated with but never previously sighted. Others shared Heliopolis childhoods.

The meeting took the form of members each briefly introducing themselves and their collecting interests, some of them including illustrations of relevant material. These introductions were limited to five minutes each, and no "display" as such was attempted. Among those addressing the meeting were:

Hani Sharestan (me3alem@aol.com), our Facebook co-ordinator, reminded us that we were meeting on the anniversary of the death (in 1965) of Farouk. A serious collector for 23 years, he specialises in the Royal collection, FDCs with royal connections, essays and varieties of classic material, and Heliopolis, including the only two Heliopolis Aerodrome marks dated 7 II 10.

TG Rehkop (tgrehkop@marz.com): a general collector for 40 years, he is interested in forgeries, varieties, interpostals, FDCs, hotels, and came to collecting Egypt when his wife and daughter bought an item for him in error at auction and it turned out to be the Port Fouad overprint low values.

Lloyd Seely (lgseely@gmail.com): a retired real estate appraiser, he started collecting Egypt in a general way after a visit in 1988, and also has collections of Canada and Chile to avoid having to buy too many catalogues.

Tammie Aaron-Barrada (AaronAssoc@aol.com): inherited the massive lifetime collection of her father in law, Baha Barrada, which her father has helped to define and catalogue. This comprises many hundreds of sheets of flaws and varieties of all periods including more modern, selected in long sessions with the Zamalek postmaster and later spirited out of Egypt. See Joe Chalhoub below.

Bill Barclay (barclayphilatelics@gmail.com): told the meeting he was in Thailand, escaping 36in of snow in Vermont. As a UN employee he visited 12 countries and became an avid collector of Sudan and especially the first overprinted DLR stamps. He has found more than 100 forgeries of this issue and is publishing the collection with the Sudan Study Group and ESC. He also collects Posta Europea and Sudan interpostals.

Sami Fereig (sami_fereig@yahoo.com): a collector for 60 years, he specializes in Egypt 1805-1957, the period of the Muhammad Ali dynasty, and has published a successful series of five volumes on the period's postal history. A sixth volume is planned on Palestine postage during the period.

Caroline Scannell (philate@ix.netcom.com): a collection of Nubian Monuments stamps has grown over 35 years of specialised collecting into a much wider topical archaeology interest also including the 1934 UPU issue and Post Day issues with pharaonic art. Organiser and editor of the Old World Archaeologist topical philately magazine.

Vince Centonze (centonzevincent@gmail.com): describes himself as a general perpetual beginner, but is interested in postal stationery as well as Air Mail covers, and showed a fascinating cover from September 1941 flown from Cairo to the USA by the PanAm Clipper Horseshoe route with the 100m and 200m 1933 Airs. He seeks information about the two printings of the 1954 view cards.

Hany Makram (makramhany@hotmail.com): a full-time stamp and coin dealer who says it is great fun having his hobby as a job. For the past 37 years he has been an avid collector of FDCs and recently published Egypt: First Day Cancellations 1866-1952 as the first catalogue dealing with such material. Also collects the first three issues, varieties and errors.

Joseph Chalhoub (chalhoub1@aol.com): as highly specialised collector of all areas of Egyptian stamps and most areas of postal history, the publisher of The Nile Post hinted that times and values had changed in the past 20 years since publication, new discoveries had come to light, and that he was considering a second edition. Tammie Aaron Barrada immediately offered to share the research.

Stephen Schumann (stephen.schumann@att.net): a specialised postal stationery collector for 25 years, collects cards used at the appropriate rate or suitably uprated, reply cards returned to Egypt and mint/used registration envelopes.

Joseph Coulbourne (josephc427@aol.com): a general collector for over 20 years, he is interested in first flight covers. Has a highly specialised collection of perfin covers and stamps and also collects stamped revenue documents.

Ragui Michael (Rama1@prodigy.net): collects covers of historic or classical interest, and showed an Alexandria Mohamed Aly Club envelope sent by Maurice Cattaui to his brother in US. Announced that he has opened a new (non-philatelic) Facebook page titled Military History of Egypt.

Christopher Smith (watermarkstamp@gmail.com): started collecting Consular Post Offices nine years ago after having specialised in India for 35 years. Now collects First and Second issue, flaws and varieties, and a current special focus is on Austrian steam navigation as it relates to mail to and from Alexandria.

Osama Gaber (aogaber@houstonmethodist.org): has a specialised collection dating to a whole lifetime and especially since moving from Heliopolis to medical school in Boston, enjoys Egypt used abroad, and has two special projects at the moment: studying postal usage between Farouk's overthrow and declaration of the Republic, and the pre-stamp intaglio seal Mohamed Aly Post.

Trent Ruebush (tkruebush@gmail.com): collecting for 60 years, he has a highly specialised collection including postal history, essays, proofs, issued stamps, multiples, control number blocks, errors, all of Egypt to 1954. He told a wonderful story about how he bought at auction the four Posta Europea pre-stamp proofs of Mansura – Lot 1 in the Palace sale – but found one was missing – and the auction house discovered it on the floor and sent it to him.

The three London members attending were David Ogden, Mike Murphy and Neil Hitchens.

The session over, it was considered that it had been generally successful and that Zoom meetings should continue despite some technical difficulties – there was insufficient knowledge about how to video-record the meeting (hence these notes), no one knew how to take "leadership" of it, and specific rules will need to be laid down to avoid interference with the sound. It was suggested that four meetings a year might be appropriate.

Members thanked the organisers, Osama Gaber and Trent Ruebush, and congratulated Joe Coulbourne on his technical acuity.