There was an encouraging attendance of 12 at the Annual Meeting, a record since covid-19 disrupted our meetings over recent years. Those present were greeted by our Chairman, Jon Aitchison, who welcomed especially Hany Salam from Cairo, and Oren Gazenfeld of London, our latest member, on his first attendance. Those present: John Davis (President), Jon Aitchison (Chairman), Mike Murphy (Secretary), Neil Hitchens (Vice-Chairman/Webmaster), John Clarke, Oren Gazenfeld, Keith Nickol. David Ogden, Hany Salam (Egypt), Atef Sarian, Richard Wheatley. Guest: Mrs Letty Nickol. Travel difficulties ruled out several members, and apologies were received from John Sears, Tony Cakebread, Aly Gabr, Andy Gould, Pierre Grech, Paul Green, Paul Grigg, Mahmoud Ramadan, Trent Ruebush, Sami Sadek, Brian Sedgley, .Hani Sharestan, Ibrahim Shoukry, Vahe Varjabedian.

Jon Aitchison said it was with proud but mixed feelings that he addressed members on account of the fact that he was to stand down after six years of progress as Vice-Chairman and Chairman.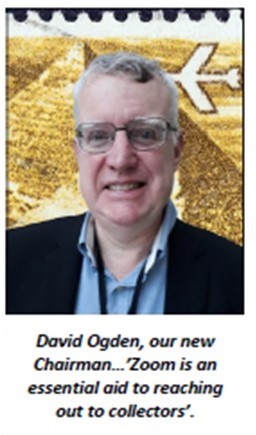 He mentioned highlights including the visit to Cairo to celebrate the 90th anniversary of the Philatelic Society of Egypt in 2019, and more recently the special exhibition at the Royal Philatelic Society London to mark the centenary of the discovery of the Tomb of Tutankhamun, and emphasised the help and co-operation from the Circle's hard-working Officers while appealing for members to help in their work: volunteers would be welcomed, he said, in any and every capacity. He called on those present to stand for a moment's silence to mark the passing during the year of three prominent members, Keith Pogson, Angela Child and Cyril Defriez.

Chairman: On the proposal of the Committee and with the support of the President, David Ogden (ESC 480), of Rochester, Kent, who spent two years working in Egypt as a university librarian and was recently restored to membership after some time away from collecting, was unanimously elected Chairman. He declared himself honoured to be appointed, and described the magazine, the website and the Facebook page as astonishing developments since his previous membership.

He was eager to expand our membership, and envisaged Zoom meetings as an essential aid to reaching out to collectors the world over. Because membership is spread world-wide and because we have had a recent influx of new members, he suggested that a list of members' interests might be published in the QC to provide sources of help and advice. Please see, complete and return the sheet attached to the March issue magazine. Closer to home, he echoed his predecessor's call for volunteers to help the present-day officers to carry out crucial tasks.

Auction/Accounts: In the absence of the Treasurer, the Secretary gave details of his reports, kindly provided by our accounts examiner, Andy Gould (ESC 393). Two very successful auctions in the year had resulted in 50 per cent of 840 lots sold, with commission income to the Circle of £1,765. Two auctions will be planned for 2023, so sales lists (with scans) are now requested.

The general accounts showed an advance of about £1,000 on the year so that the accumulated surplus at December 31 was £25,292.28 as opposed to £24,242.45 the year before. Increased expense on QC costs and Officers' expenses were both accounted for largely by postage and entertainment at the Tutankhamun anniversary meeting at the Royal. Income was boosted by a generous donation from the Pogson family of half the proceeds from Auction sales, and the Treasurer also gave grateful thanks to Michael Ryan, Sherif Samra and the late Cyril Defriez for their own donations.



Membership: The Secretary reported that membership had increased by a net eight members during the year from 161 to 169, with ten new members, gathered largely from the website, more than balancing two resignations and three others lapsed for non-payment of subscriptions. He warned that several subscriptions remained outstanding for 2023 and suggested that there may be more lapsings to come.

Editor: The QC had appeared regularly on schedule, and the Editor was grateful to several "regular" contributors for their hard work in keeping the magazine fascinating and informative. He is always pleased to receive submissions from members, and is delighted to be able to acknowledge articles from three first-time authors in this March issue. It is hoped that a new feature – Why I collect Egypt – might help to introduce newer members and increase interest.

Website: All pages of the QC, from issue No 1 in 1938 to date, have been digitised, cleaned and improved and are now available on the website, the Webmaster reported, and capacity of the site had been expanded to allow for display of members' collections. [As an aside, if any member wishes to have paper copies from issue 61 to 187, please contact Peter Grech (via the Secretary), who offers his copies completely free to anyone who will collect from his home in South London.] The Webmaster reported that he is watching Zoom prospects closely and hopes to have good news on that front shortly. Meanwhile, Trent Ruebush and our North American colleagues will hold an experimental meeting on March 18.

Click here to watch the video:

Librarian: John Davis reported that, despite our astonishing holdings of books, magazines and pamphlets, the amount of material available on the website and online generally meant that there had been no Library business whatever in the past 12 months, He reluctantly suggested that the space in his cottage might find a better use, and appealed to members to take on the role and the collection, preferably someone more central to London.
Members then showed some pages from their collections as follows:

John Davis, A wide-ranging display of Hotels covers, ranging from hotels without post offices via hotel post before they had post offices to the Continental in detail. He appealed to members who might provide him with the only cds he is missing on cover, Continental HC11 (illustrated).

Keith Nickol: showed some vintage postcards, including photograph types, and especially of hotels, which he explained he used to enhance display pages of postmarks. Also on display were early Egypt-themed magazines from the nineteenth century.

Jon Aitchison showed some outstanding postal stationery, including several printed covers with the embossed vignette offset on the interior of the envelope – not rare, but not often seen or discussed. He also showed the 5 mills surcharge on the 2pi cover and suggested that though the two surcharges of different sizes should be classed as different types, that without a hamza on the alif should be a "normal" flaw rather than a type.

Mike Murphy showed recent FDCs as received from the Philatelic Bureau in Cairo, including the Tutankhamun and Rosetta Stone issues, and queried for whom Egypt Post produced such – admittedly beautiful – over-size folders to hold them. They could not fit on a display page, so why so large?



Click HERE to view a copy of the 2022 Accounts.