PRESENT: Twenty-seven members were present; apologies for absence were received from 14 members.

Encouraged by the attraction of an Ottoman-Empire-themed Spring Stampex, at which several of our members exhibited parts of their collections (see link?), and a Live Auction, we had a crowded meeting room of 27 members, perhaps the best attendance since London 2010. The Minutes of the 2016 AGM were approved; no matters were arising.

Chairman: The Chairman welcomed such a good turnout and was especially pleased to see new members from overseas at their first meeting. There were special welcomes for Mohamed Lotfy (Egypt) and Adel al-Sarraf (Kuwait), the two members who chose to turn last year's Facebook "temporary membership" into full membership. We hope both enjoy their collecting with the Circle. Reviewing the year, the retiring Chairman said he was pleased that it had indicated a good pointer to the health of the Circle, with a very successful visit to Cairo to celebrate the 150th anniversary of Egypt's first stamp issue, the staggering find of a hoard of Muhammad Ali period correspondence in Asyut, and a whole series of splendid displays by our members - all promising a bright future for the Circle.

Secretary: The Secretary reported on the continued success of the Facebook page, with grateful thanks to Hani Sharestan (ESC 595), and said that plans were in train to augment last year's "temporary membership" scheme with perhaps some slight change in arrangements. He reported a net increase in membership of nine over the year, from 173 to 182, including two new members accepted by the meeting – welcome to Rob Parkes of Cheltenham and Alex Ben-Arieh of Jerusalem. It was noted, however, that more than 30 members had yet to subscribe for 2017: they will be receiving reminder messages.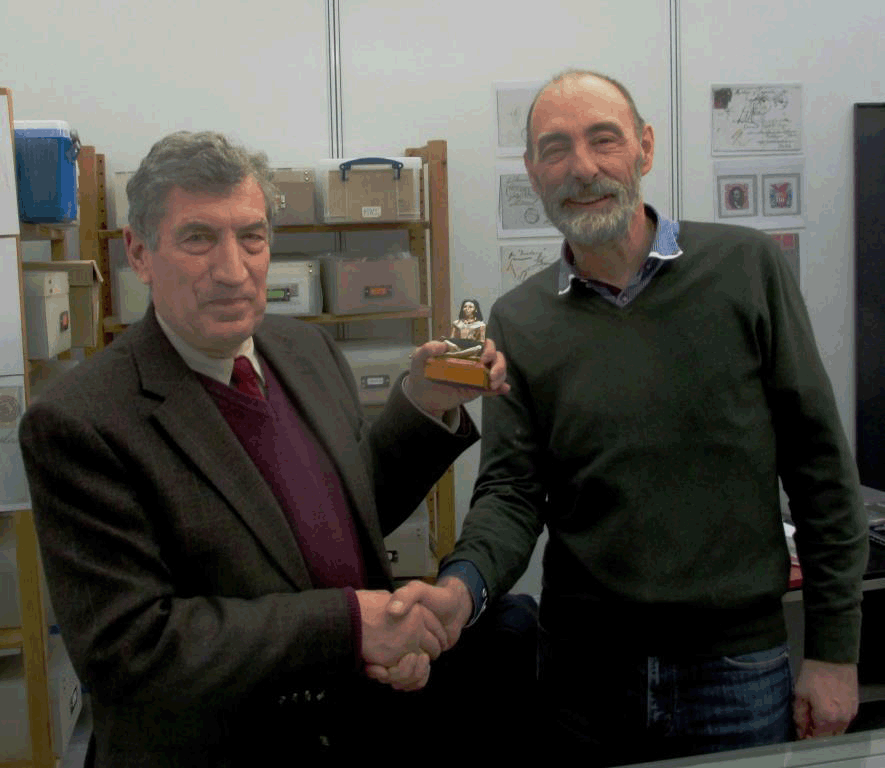 John Davis, our new Chairman, left, presents the MacArthur Award to Greg Todd after the meeting.





Votes for the MacArthur Award, intended to encourage members to write articles for the QC, had again been disappointingly slow to come in – but at least the range of choices, nine articles, indicated the breadth of our interest in all aspects of Egyptian philately. He was delighted to announce the 2016 winner as Greg Todd (ESC 585) for his research into stamped covers from Massawa (QC 259, p.252-6).

Accounts: The accounts were presented by the Treasurer (see link?), showing a very slight increase from £4,919.93 to £5,007.09 in income for the year, balanced by an increase in expenditure from £3,761.88 to £4,463.33, due largely to one room hire payment being delayed and a good deal more work having been done in digitising back copies of the QC and L'OP so that all are available to members on the website. This work continues. Overall, the Circle ended 2016 with a surplus of £19,429.76 against £18,886.00 for 2015. Adoption of the accounts was proposed by John Davis (ESC 213) and seconded by Peter Grech (ESC 266); a vote of thanks to Stephen Bunce (ESC 272) for preparing the accounts was proposed by Brian Sedgley (ESC 268) and seconded by Edmund Hall (ESC 239).

Auctions: The Secretary reported that Live Auction 6, in the springtime, realised a total of almost £4,000, with 12 successful room bidders and 19 by mail, and a Circle commission before postage of £565.16. The autumn auction was a great success, with 44 successful buyers and 16 vendors. Nearly 300 lots were sold for a total of £8166.50. After postage costs, the commission due to the Circle totalled £1037.61. He appealed to members to contribute high-quality material for sale, to create more interest and thus increase commission.

Editor/Webmaster: The Editor reported an encouraging amount of progress in the efforts of Neil Hitchens (ESC 651) to eventually take over the role of Webmaster in light of his serious illness, reporting that the Live Auction list was produced entirely by his efforts. Edmund views the Auction commission as vital to our future, and says that we seem to benefit more than other societies. Turning to the QC, he said he had been flooded with articles after last year's desperate appeals for material to fill its pages, and thanked members for hurrying to produce fascinating articles. He apologised to those whose material had not yet been published, and warned that the backlog of material would not last for ever. There is still need to produce new articles.

Librarian: the Librarian announced the receipt, thanks to the good offices of Ronny Van Pellecom (ESC 618) and Greg Todd, of a number of copy documents from the archive of the late Peter Smith, comprising largely material produced by the Egyptian Post Office in the 19th century and so a first-hand account of Egypt in transition. All have been protected and are available to borrow (see list below?). He also announced receipt of God Dies by the Nile, the novel by the leading Egyptian feminist Nawal El Saadawi, and the curious Wilfrid Blunt's Egyptian Garden: Fox-hunting in Cairo, an abridged official report of a 1900 court case after British officers hunting with hounds were beaten up by ghafffirs when they entered Blunt's garden.

Election of Officers: Peter Andrews, Chairman, standing down, John Davis, the Committee nomination, was elected by acclaim in his place; and Jon Aitchison (ESC 661), Committee nominee, was elected by acclaim as Deputy Chairman. The Committee nominee for Antipodean Agent, Tony Cakebread (ESC 536), was also elected by acclaim and the meeting thanked him for volunteering and wished all new officers well in their new posts.

The meeting then elected three new Honorary Life Members: Peter Andrews, Cyril Defriez (ESC 272) and Edmund Hall. As sole standing Life Member, the President said he was delighted to be joined by three such distinguished colleagues, and paid tribute to each: Peter Andrews for having filled every post available during his long years of membership since the mid-1960s and particularly for having guided the Circle into safe waters after the sudden death of Robin Bertram in 2005; Cyril Defriez for his 40 years of painstaking care and attention in publishing details of all of Egypt's new issues in the QC and acting as custodian of the Circle's modern stamps; and Edmund Hall, another who has filled virtually every role in the Circle hierarchy but whose main role in recent years has been to produce a steadily improving QC (winner of a Vermeil medal in the exhibition) and to invent and curate the invaluable website from scratch.

Other business: John Davis proposed that we re-create the expertisation committee. After much discussion, with strong arguments both for and against, the motion was withdrawn on the grounds that at the moment the hurdles outweighed the potential benefit. It was agreed that a committee was desirable, and that the matter would be kept under consideration.

Jon Aitchison proposed that the Circle re-affiliate to the Association of British Philatelic Societies, which is being reorganised to become an even more vibrant voice for the future of philately in Britain, arguing that the Circle's voice should also be heard. The meeting was addressed by Dane Garrod, the specialist societies representative. The meeting voted 16-3 to re-affiliate.

Jon Aitchison proposed that closer ties be formed with our Egyptian colleagues. After hearing that we already had an ad hoc but firm arrangement to visit every two years for the PSE's international exhibitions, and that overseas membership of the PSE was not offered at present, it was agreed to take no further action.

The long AGM discussion meant that the Live Auction that followed moved at breakneck pace: grateful thanks from all to Edmund Hall, the auctioneer. It resulted in 109 of the 189 lots being sold (58%), with preliminary results showing 82 lots sold in the room and 27 to email bids, a disappointing figure. Though such bids were down, there should be a commission of about £300 for Circle funds.

Given that the AGM and Auction were awkwardly squeezed into the two hours allowed by Stampex, no decision was taken on the place or date of next year's AGM. It is likely not to be at Stampex.