The Chairman welcomed those present, and especially our overseas visitors, Dr Sherif Samra (ESC 311) and Vahe Varjabedian (ESC 390), and looked forward to the meeting, for which Dr Sadek (ESC 559) has made enormous research to update the classic book of the late Peter Smith, now – astonishingly - 25 years old!

Twelve members attended; there were apologies for absence from ten members

The Secretary noted that the Treasurer felt it time to step down after 13 fruitful years in charge of our monies, and the meeting decided that it would be appropriate to make a change just after the holiday season – so please continue sending your subscriptions to Brian Sedgley. Wearing his Auctioneer's hat, he also reported the November Auction a success, with 42 of 46 bidders winning lots, an £11,500 turnover, and a commission for the ESC of well over £1000, after postage charges driven high by sales of books. Just over 50 per cent of the material was sold, realising almost £8,000 for Peter Andrews' family. There will be a further auction based on the Andrews collection in the springtime.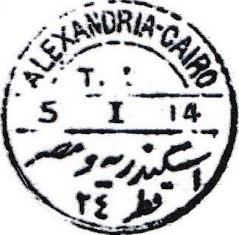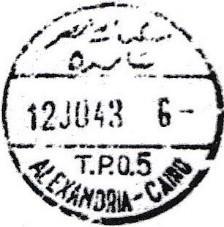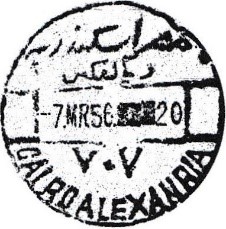 Just three of the newly discovered Alexandria-Cairo TPO types.
From left, with the Arabic for train – qitar – together with number 24; with T.P.O. 5 above town names; and with date slug in a rectangular box


Dr Sadek paid tribute to Peter Smith and explained that it had been possible to move beyond his book because several new research areas had come to light, including particularly train timetables revealing not only the infinite efficiency of the Egyptian Railways of the period but also the infinite intricacy of the network of mail trans, national and local, throughout the country. He explained that though many new types of postmark had been discovered, we shall abide by Professor Smith's wishes and not change the basic numbering of types, which has become well established.

He started by explaining that railway mail coaches were of two types – one for sorting, one acting as a general post office, accepting mails from stations without regular offices. This explained how some covers carried TPOs as the initial CDS. With the benefit of the rail timetables, he was able to unravel many of the secrets of the system including that express trains carrying Cairo TPO 24 actually ran from Alex to Cairo, and that Alex TPO 19 ran from Cairo to Alex.

His investigation of the Port Said TPOs was able to resolve the long-standing mystery of the Port-Said-Alexandria TPO, with no single journey possible across mouth of the Delta. This was just one of several TPO markings actually covering two journeys – from Port Said south to Benha, and then dropped off and transferred to the Benha-Alexandria service. Cairo-Suez (drop-off at Ismailia) is a similar case.

Having covered at breakneck speed and in almost 200 sheets the Cairo-Alexandria, Port Said, single town TPOs and the Fayoum – with its complication of State railways and agricultural light railways of a different gauge, he promised more to come in future meetings. Those lucky members present were dazzled by his knowledge and his presentation, and we are very much looking forward to more – and the eventual book!