PRESENT: Nineteen members and one guest were present including five from overseas; apologies for absence were received from four members.

The membership was delighted to elect four new members to the Circle: Panayotis Cangelaris (Greece, ESC 635), Joan Soriano (Zimbabwe, ESC 636), John Lowe (United States, ESC 637) and Khaled Moustafa (Egypt, ESC 638).

The Chairman welcomed those in attendance, and especially the overseas visitors, and opened his remarks by regretting that the New Zealand meeting planned for February had been cancelled for lack of interest, and hoped for better support in the future.

Before the meeting proper got under way Vahe Varjabedian from Heliopolis presented medals to our two Sharm el-Sheikh exhibitors, Peter Andrews and John Davis, on behalf of Dr Alaa Fahmy, Chairman of the Egyptian Postal Organisation, who made similar presentations last month to members in Egypt.

Samir Fikry then announced, on behalf of the Philatelic Society in Cairo, the exciting prospect that it was hoped to hold another international exhibition at the new Bibliotheca Alexandrina in June this year; there were no dates or details yet, but it is hoped that the Circle might be able to organise a visit and exhibitors.

On behalf of Leon Balian, who is recovering from open-heart surgery, John Sears announced that Book II of the Balian Catalogue of Egypt had now been reduced in price after costs had been covered; it was now available for £20 including postage. Members should contact Leon direct or John Sears in UK.

Members then discussed prospects for London 2010, which will coincide with the Circle's 75th Anniversary, and it was decided to arrange a combined luncheon and exhibition reflecting the myriad philatelic interests offered by Egypt and reflected in our members' wide-ranging collecting areas. After much discussion and a great deal of thought, it was agreed that we would meet on at the Victory Services Club on Friday May 7, 2010, the free day between the two days of Philatex Extra and the opening of London 2010 at Islington on May 8. More details are supplied in the enclosed leaflet, and it is hoped that as many members and partners will be able to attend as possible. Because the date clashes with our normal Annual General Meeting, it was proposed that for 2010 only the AGM should be brought forward to February.

The Treasurer announced that expenditure and income balanced almost precisely last year, and that without commission from the Auction the Circle would be struggling financially. He urged all 80 members who have yet to subscribe for 2009 to do so and reminded members that subscriptions were due on January 1.

John Sears handed out copies of the Auction 47 list, just completed, and John Davies noted that Sudan-related books and pamphlets left by our late Chairman Robin Bertram would come up for sale via the Sudan Study Group in August: a list will appear in the QC.

Edmund Hall noted a good response to his appeal for articles for the QC, but regretted that they largely came from the usual contributors, and announced exciting new changes for the website, including the first appearances of updates to Peter Smith's book, and. announced that further members' collections were in course of preparation, including the Concessionary period.

The Secretary then mentioned that parts of several more members' collections would shortly come up for auction: Hany Salam, Secretary of the PSE, will be disposing of his First Fuad material at Feldman (http://www.davidfeldman.com/) on April 29 (much of the material is available to view on Exponet: (www.japhila.cz/hof/0274/index0274a.htm); Alan Jeyes will provide Commemoratives, Air Mails, Hotels and Hotel labels at Grosvenor (http://www.grosvenorauctions.com/) on May 7; and in the same sale Keith Pogson will be saying farewell to some of the best Second Fuad collection in the world.

We then moved on to the meeting proper - Ten Sheets, in which the first to display was Laurence Kimpton, who showed several pages from his Cairo-Baghdad air service collection, including covers from an RAF proving flight from Baghdad in February 1919, an RAF emergency flight in the same year, and several covers from the 1922 RAF services to Persia and Basra. Brian Sedgley showed early postmarks, including Type VI, with Alexandria and Helouan standard but Roda providing a unique design, Type VII, used only in Alexandria, and several examples of the fascinating star and crescent Type X.

Mostafa el Dars explained his adventures in dealing with the Cairo Philatelic Bureau in trying to buy Post Office display sheets of full tear selections of recent stamp issues, - which included the final version of the controversial Bar Association issue, with four vignettes instead of five across the bottom line of the sheet - and asked the meeting: Should we really be collecting these sheets?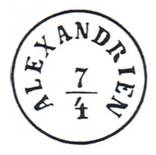 Member 118 showed a number of examples of postmarks on cover of the Austrian consular PO in Alexandria, and in particular the early Type II (right), and drew attention to the fact that many of them had no line between the date and the month although the example in all the catalogues shows a line. In another discrepancy, he finds that he has two examples of the "thimble" Type II-4 (left), which is invariably described as an obliterator only, used as arrival marks. He appeals to all members to examine their Austrian postmarks and to make records of the differences: for contact details please refer to the Secretary.

Paul Green put up an outstanding display of essays of essays ranging form 1867 to 1922, which included a 20p 1874 litho produced by Carlo Borani of Florence and 5m and 10m values of the Bradbury Wilkinson recess-printed essays of 1906 (sphinx and camel-train respectively), both of them overprinted SPECIMEN.

The advent of the short-lived first machine-canceller, the New Zealand Moss type, was introduced by Dennis Clarke, who showed early proof impressions and one of the very few known 50m covers recorded; he went on to explain how the "toughra" identifier, which should have changed immediately Farouk replaced Fuad, in fact continued for at least two years after 1936.

The maritime markings of Port Said was the subject of John Sears, who noted that Pleine Mer marks reported recently on mint postal stationery (and bought at Stampex that very day by another member!) were of the right size and probably genuine, giving a clue that the handstamp might have been made of rubber. He showed late usage of the mark on a 1909 card, and noted that the date of introduction of the CDS was unknown - his latest straight-line marking is 31 MR 14.

Samir Fikry opened with a warning against "versions" of both Farouk wedding stamps in "miniature sheets" showing vertical pairs of stamps manufactured by an Egyptian now living overseas and offered at $2000 each. He went on to show copies of highlights from his stunning new Suez Canal collection, which will be exhibited this year in China and Germany. The included a Posta Europea Suez of 1863 to Saigon, one of three covers known with the Canal Zone 5c fro Suez (with four stamps), one of four covers fro Ras el Ech, an incoming cover to Kilometro 34, an Ismailia cover with a bold Canal Transit and Navigation logo in blue, and an astonishing cover sent from Sweden to the Count representing Stockholm at the opening of the Canal. Astonishingly, it arrived on the appropriate date!