PRESENT: Fiftteen UK members and four overseas members were present. Apologies for absence were received from a further 13 members.

Unusually, because the AGM had to be brought forward because the normal May date clashed with the big London 2010 exhibition and our own 75th Anniversary, and because the January meeting had to be cancelled on account of appalling weather, the meeting started with a display. John Sears, our President, entertained us with the display planned for January, and presented a fascinating and wide-ranging series of sheets on the topic "Ship Mail since 1890".

John showed the whole gamut of Egyptian mail markings, from Pleine Mer to the latest Alexandria Maritime Station, and everything in between, explaining the development from straight-line paquebot markings to circular datestamps for country's major sea ports - Alexandria, Port Said, Suez and Port Tawfiq - and explained how that development varied, with Port Said changing in 1914 but Suez never having a circular handstamp and Port Tawfiq enjoying two similar types at the same time.

He described a notable increase in ship mail during the 1950s and 1960s when the assisted passage scheme to New Zealand and Australia was at its height, and then moved on to related markings of the Khedivial Mail Line, the Royal (later State) Romanian Maritime Service,, the Vapore d'Alessandria cachet, and reported on a cover acquired only that week bearing the CDS of the Société Misr de Navigation Maritime vessel El Nil.

Most important of all, he handed out "homework sheets", and sought members' help in compiling comprehensive records of the Paquebot and Pleine Mer markings by recording all markings in their collection and returning the sheets to John as soon as possible. The Chairman then thanked the speaker on behalf of members for having "introduced us to an enormous subject" which he thought had been done full justice.

He offered no apologies for starting in 1890, but made the initial point that there remains much to be discovered in postal history terms about the first part of the twentieth century. His display provided a glimpse into another world, with a great deal of time and effort having been put in to tracking down illustrations (mainly colourful postcards) of the vessels on which his collection of covers and cards had been written or carried.

Members then turned to the Annual Meeting, which opened with a minute's silence to remember two of our recently deceased Egyptian colleagues, Samir Fikry (ESC 305) and Adel Farid (ESC 495).

Chairman's Report: The Chairman welcomed those in attendance, and especially out foreign visitors, and after apologies for absence and a negative on matters arising from the minutes of the last AGM, opened his annual report by saying that it had been a quiet year. He regretting that the January meeting had been lost to the weather, but noted a redesign of the QC front cover, and urged members to make it a point to visit the increasingly valuable material Edmund Hall (ESC 239) was posting on the website, creating a valuable research tool. He praised the Committee and gave sincere thanks to our three overseas Agents - Dick Wilson (North America), Tony Chisholm (Antipodes) and Ibrahim Shoukry (Egypt) for their efforts.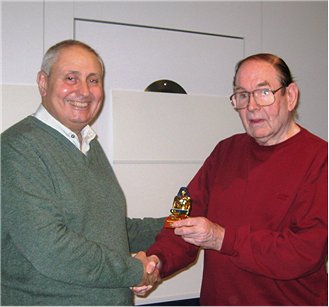 Secretary's Report: The Secretary noted that overall membership had been reduced by two during the year as new applications virtually balanced the number leaving, and introduced a new applicant, Armen Varjabedian from Heliopolis, who was elected to membership by acclamation. He was pleased to see that the number of votes for the Macarthur Award had again increased, and handed over to the Chairman to announce the winner: after two years of close contests, in 2009 it was a runaway success for Pierre Grech (ESC 266), with his magisterial French Forces in Egypt in World War One.

In discussing arrangements for the 75th Anniversary luncheon on May 7 and for the London 2010 exhibition, he expressed disappointment that there had been so few volunteers, and spoke with sorrow about the dearth of support for the few active committee members from the membership in general. He appealed - again - for volunteers to man the table at London 2010 and for 16-page single-frame exhibits from the luncheon, with a certain amount of success. More help is still required to make these events a success.

In similar manner, the Deputy Chairman appealed for members to support the luncheon, and gave warning that as the number of places was limited at the Victory Services Club, applications should be received well before the closing date of April. 1

Treasurer's Report: The Treasurer presented Circle accounts to December 31 2009, noting that expenditure had increased on room hire (for meetings) and on QC costs (mainly postage), and that a much higher than usual proportion of members' subscriptions had not been paid before the AGM because, exceptionally, we had moved it forward. He said that some leeway would be given before action would be taken against non-payers, but appealed to members to make their subscriptions as soon as possible.

Subscriptions appeal

During the meeting the Treasurer appealed to all members who are able to do so to pay their annual subscriptions by standing order - once arranged it can safely be forgotten, with benefits all round! The Circle account is at Barclays Bank (Wood Green Group), sort code 20-98-21, account number 60334731: please use your surname and ESC membership number as references.

The transfer from the Auction account remained constant at £1,500, leading to a surplus for the 12 months of £1,374.36 as against £1,961.18 the year before. Members voted to adopt the Accounts (proposed, Brian Sedgley; seconded, John Davis). The Treasurer then proposed a vote of thanks to the Accountant, ESC 272, which was seconded by Mike Murphy and warmly applauded.

Auction Report: John Sears reported that the results of Auctions 47 and 48 had been slightly disappointing, with the proportion of lots sold reduced. The two sales produced a net profit of some £1,150, which would certainly be reduced this year because only one auction was planned. He made two serious appeals - for members to support the Auctions both by submitting material and bidding on the lots offered; and for all members to consider how they could help the auction team - which as been in place now for getting on for 20 years and feels that there must be other things in life (if only there was time!).

Editor/Webmaster Report: Edmund Hall (ESC 239) reported that he had only limited time to prepare the special 75th Anniversary QC and spoke of his great disappointment that members had not submitted single-page articles by the end of December as requested. He would make every effort to produce a fitting tribute to 75 years of the Circle, but was beginning to wonder how much members valued the QC.

On the website front, he reported that though he had been able to place much more material online in recent weeks, the response from members had been less than encouraging. Though acknowledging members' increasing average age, he urged all to visit the site to see what had been achieved in their name; and further urged every member to consider what material he could add to the general body of information on the site. Anyone fearing practical problems would be assured of a warm and friendly welcome! He very much welcomed the Chairman's warm enthusiasm.

Letter from the Philatelic Society of Egypt: The meeting considered at some length a letter received from the President of the Cairo Society, Dr Sherif Samra, warning of the prevalence in Egypt of the photocopying for illegal resale of books, magazines and pamphlets that were still in copyright. Dr Samra said he was determined to stamp out this practice, and sought ESC help in suggesting what action might be taken against two alleged perpetrators, both of them members of both the Egyptian group and the ESC.

After full discussion, the meeting agreed overwhelmingly to support Dr Samra's campaign by making this report public, by, in the first instance, quiet diplomacy with the two members concerned, by making clear that there were membership and even legal sanctions that could eventually be brought to bear, and by making a strong appeal to all members worldwide not to purchase such photocopied material. It was clear to all that such illegal photocopying can only line the pockets of the lazy who are piggybacking on the work of genuine researchers who themselves may be discouraged from publishing, thus robbing everyone of the fruits of their labour. The Circle feels strongly that firm action should be taken against those found to be continuing this practice.