The Chairman, Peter Andrews, opened the meeting by wishing all those present a Happy New Year and looking forward to an interesting and entertaining year of Egyptian philately. He greatly regretted the absence of the President, John Sears, who is convalescing after knee replacement surgery, and all present sent John their best wishes for a speedy recovery.

The Chairman noted the comparatively small turnout, and suggested that members might give some thought to how we might avoid having to hold a meeting so close to Christmas, especially in light of the fact that the intention is to hold a meeting every two months, and that our Spring Stampex meeting – one of the best attended – has already crept back into February and seems to be earlier each year!

The Secretary announced that he had had an email from a friend of Jean Flower, now 88, the daughter of our founder, Dr William Byam, and Committee members will investigate the possibility of providing her with a suitable souvenir of her father's time with the Circle, and perhaps of visiting her in Cheltenham.

He also had to announce, with great regret, the resignations of Sven Eriksson (ESC 411, Sweden) and Gerald Smith (ESC 531, Devon), both of whom have disposed of their Egyptian collections. On the other hand, there were four new membership applications, all accepted.

The Secretary announced on behalf of the Treasurer that 2007 subscriptions were beginning to roll in successfully – but more were required soon! – and on behalf of the President that sales lists of material for Auction 43 were required by February 15.

Edmund Hall (Editor/webmaster) was able to announce that, after many years of detailed work –he made the first announcement at a meeting in February 1979(!) - a comprehensive index to the QC from Issue 1 to the latest issued (Whole Number 219) was now available and had been posted on the website for ease of access. He will shortly place on the website, password-protected, a second and more comprehensive index, listed by subject, which brings together the following publications: QC, L'OP, Egyptian Topics and many other philatelic magazines: this has been a real labour of love, and should prove an immensely useful tool to all member-researchers.

John Davis (Librarian) announced that the sale of back copies of the QC had gone extremely well, producing almost £150 for Circle funds. He will announce further available issues in a forthcoming edition of the QC.

Before his display, Cyril Defriez (ESC 172), who maintains our collection of New Issues, brought to members' attention the mystery of the recently issued miniature sheet associated with the se-tenant pair of stamps issued on July 13 2006 to mark 50 years of Egypt-China relations. It seems that the sheet has been sent to overseas subscribers to the Philatelic Bureau's new issue service – but is not at all available in Egypt from the post office, but only from dealers at a very high premium. Cyril and Leon Balian (ESC 251) are working to try to clarify the situation. If any member has received the sheet, please let the Secretary know.

Turning to the meeting display, properly titled "A postmark Tour of Egypt, Part 2: Lower Egypt", Cyril regaled us with a quite astonishing series of sheets – the product of over 15 years' collecting – illustrating circular datestamps of smaller and out of the way towns and villages, many of which were seen for the first time by those present.

Opening with the suburbs of Cairo, he "traversed" the western Delta to the suburbs of Alexandria, and then down through the central Delta, concluding with the eastern Delta and back to the Cairo outskirts. The range of material shown was comprehensive in illustrating the development of the postal service, but far too detailed for this brief report, so we illustrate as examples a couple of his covers, and Cyril explains their significance.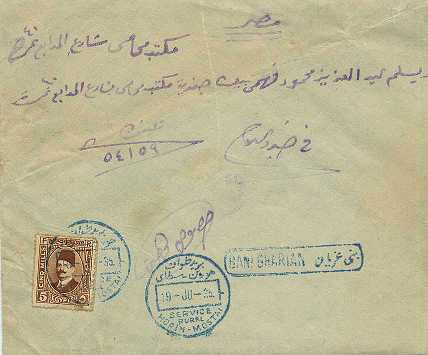 Arabic-addressed envelope, franked 5m (internal rate), sent from village
Bani Gharian (cartouche) via Service Rural / Hurin-Mostai 19 JU 35
(all markings in blue). Hurin (or Horin), its postal service provided by
the railway from Birket el-Sab to Zifta, is in Gharbiya Province at 30.39N 31.08E;
Bani Ghairan, near Quwesna, and Mostai, served by the Rural Service from
Hurin, are in Minufiyah province. Back-stamps are Hurin 19 JU 35,
Birket el-Sab same day and Cairo 20 JNE 35.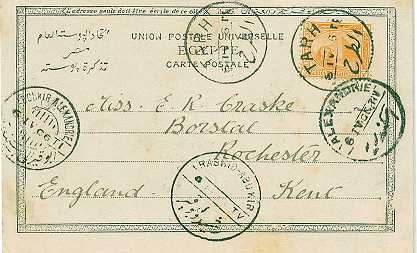 Postcard addressed to England franked at 3m overseas postcard rate, sent from Tarh
on 6 IV 06 via two TPOs on the same day, Rashid-Aboukir (unrecorded type,
most like 8A1) and Aboukir-Alexandrie (unrecorded type, most like 8A6),
and Alexandrie, also same day, for onward carriage by sea. Tarh is a tiny village
in Beheira province, on the railway line between Idfina and Alexandria.
Rashid is another name for Rosetta, at the western mouth of the Nile, and
Aboukir (or Abu Qir) is now the easternmost suburb of Alexandria.


The meeting closed with the Chairman applauding such an exhaustive tour of the delta, noting that many postmarks were outside his knowledge, and particularly welcoming use of Rural Post covers and TPO markings to illustrate some of the smaller towns and villages. Members showed their appreciation in the traditional manner.