PRESENT: A total of 16 members attended; there were apologies for absence from eight members.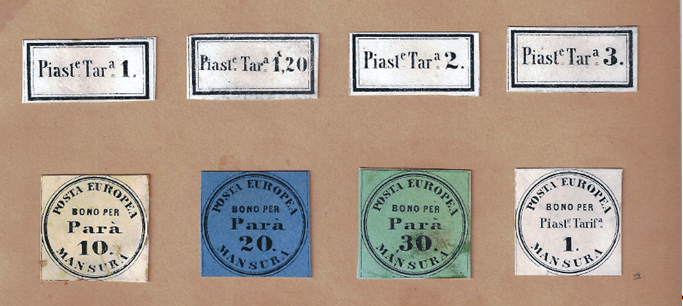 1863-64 essays for proposed adhesive stamps. Above, black on white with four denominations; below, black on colour with four values, the forerunners of Egypt's Interpostal Seals


On a blazing July London day, members able to attend at the Royal Philatelic Society were treated to a right royal display of staggering range and depth in Greg Todd's treatment of the First Issue. The topic attracted two members - Neil Hitchens and Malcolm Lacey - to attend their first Circle meeting, and they were far from disappointed by the wealth of material on show.

From forerunners to the advent of the 1867 Penasson issue, Greg was able to show a gold-medal range of stamps and postal history in no fewer than 139 sheets, accompanied by a laconic and informal address, leaving plenty of time for members to examine the beautifully laid out sheets. For those unable to be there, Greg has kindly supplied a memory stick containing the whole display: we hope to have it up on the website in the very near future.

Full of anecdote and fascinating glimpses into the auction world, the talk ranged from his initial interest in Egypt - when he was able to purchase a massive block of 53 of the First Issue 1-piastre - the biggest block known (ex Byam, Kuyas, Antonini, Fikry), to his intense delight and relief at being able to buy highlights from the Queen's Royal collection when she sold material to fund the purchase of the 1840 FDC with ten Penny Blacks attached.

Among the almost unbelievable range of material shown were essays (1863-64) for even earlier stamps by the Posta Europea - two sets of four of which only three examples are known, and displayed on the album pages on which they were found. These followed a staggering display of Posta Europea folded letters with the full range of handstamps, and preceded a remarkable display of the pre-stamp Government Post.

Before the First Issue Muzzi Bey (the display includes an autographed letter, right)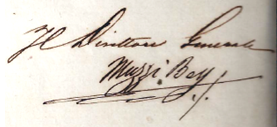 was at pains to make sure that the stamps were going to be acceptable, and a wide range of essays was prepared, including one fanciful view of Alexandria lighthouse. These are shown in 11 sheets before we reach the famous Pellas essays which eventually became the selected design.

On display were blocks of four (or larger) of all the proofs, immensely useful for plating because multiples of the issued stamps are either non-existent or virtually unobtainable, together with perforation trials in abundance, including a suggestion that some might in fact have been trials for the 1867 issue using remainders of the first issue. Most unusually, he was able to display half-sheet of the watermarked paper that gave Pellas such trouble in perorating, together with a full explanation of all the perforation varieties..

After that comes a full range of the design varieties on each stamp, taken value by value including a lower right corner block of ten of the 1-piastre with marginal lettering and the only multiple showing both sides of the interpanneau margin.

Three-colour combinations from Cairo and Alex - the only ones recorded

The stamps are augmented not only by examples used on folded letter or cover (or newspaper in the case of the 5-para), showing retta cancels, normal, registered, double-rate and postage-due covers and the earliest use of the Affrancatura Insufficiente handstamp but also usage from the offices in Constaninople and Gedda and combinations with Austrian, French, British and Italian consular offices.

Also on display were covers with the 2pi bisects authorised during July and August 1867 and - much more surprisingly and easily overlooked - a cover from Cairo to Alex of July 27, cancelled in blue, bearing an intact 1pi stamp. Probably unique.

From Alexandria, January 27 1867, and from Cairo, March 2, 1867 were shown the only two three-colour combinat-ions recorded - with a 1pi, 2pi and 5pi from Cairo and 1pi, 2pi and 10pi from Alexandria. Both on small piece, but both quite remarkable. The whole display, truth to tell, was quite remarkable, and remarkably comprehensive.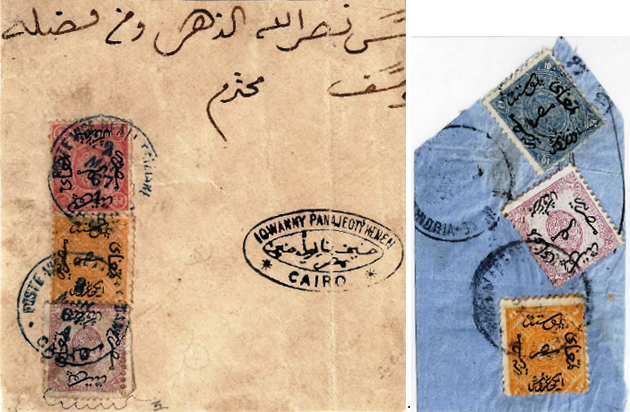 Three-colour combinations from Cairo and Alex - the only ones recorded

This report could spread over many pages - alas, we have not enough space. But suffice it to say, as the Chairman noted at the end of an astonishing day: "Many thanks indeed, Greg, for a quite astonishing display".

It should be added that earlier the Chairman had welcomed members, and that Edmund Hall was congratulated on being elected President of the Forces Postal History Society. The Secretary noted that the first two 20154 issues of the QC were now on the website for members to see - and to judge whether they could save the Circle money by foregoing the printed version; an appealed for members to volunteer to speak at 2015 meetings.

And after all that came the mini-auction, ably supervised in the absence of Jon Aitchison by John Clarke. Unfortunately, only four members had volunteered five lots each, so although bidding was spirited, the upshot was £11.15 commission only to Circle funds. Please bring more lots next time....