PRESENT: Fifteen members attended; apologies for absence were received from five members.

The Chairman opened the meeting by passing on the invitation from the Philatelic Society of Cairo for all members to attend – and exhibit at – the forthcoming exhibition in Cairo to mark the 150th anniversary of the first Egyptian stamp. Following on from two successful preliminary exhibitions in January and June, the exhibition will run from December 31 to January 6, with a series of lectures and meetings surrounding the main celebrations on Post Day, January 2.

We have made several visits to Egypt in recent years, but this one promises to be special, marking such an important anniversary. The Chairman urged all members to attend if possible, and also to show their displays to support the Egyptian society. It is already known that the exhibition will be held in the Opera House complex in Zamalek, and that officials (and also ESC visitors) will be staying in the four-star Pyramisa Hotel just a few minutes away. The Secretary promised to email members with further detail as it comes to hand

As mentioned, one preliminary meeting and exhibition was held in early June, supported by displays from three British ESC members, whose results were as follows: Edmund Hall, Egypt Military 1883-1983, Gold and Special Prize; Postcard Rates, Silver. Mike Murphy, Rural Service/Service Rural, Gold; Postmarks of the Dams Post Offices, Silver; John Davis, Posta Europea, Vermeil. An extended report of the exhibition appears in the September QC Congratulations to all three exhibitors!

The Chairman made a special point of congratulating Mahmoud Ramadan of Cairo on his Gold medal for Egypt Officials 1893-1922 at Europhilex in London in May.

The Secretary then put before the meeting a member application (and later received a delayed form that just missed the meeting so consulted the Committee before approving the application). So welcome to two new members in Hugh Jefferies (UK) and Brian Callan (Ireland).

He urged members to attend in Cairo, where they will be made extremely welcome, and on a show of hands ten of the 15 present indicated an interest. Those wishing to learn more should contact the Secretary.

The question of a possible Facebook page was raised, with the Secretary announcing that Hani Sharestan, the instigator, had mocked up an admired front page, volunteered a good deal more information, especially about safeguards, and had also suggested a team of trusted and knowledgeable "page leaders" who would be responsible for approving new page members, disseminating ESC information, sharing knowledge and encouraging discussion. It is unfortunate that no member present felt confident enough to express a firm opinion on the topic: a small sub-committee comprising Mike Murphy, Edmund Hall and Sami Sadek was set up to consider the future of the suggested project.

The Secretary noted that the closing date for lists for the Autumn auction was August 15, and urged members to nominate material for sale, bearing in mind that commission from the two Auctions raises something of the order of £1000 each year towards Circle funds.

There were then three brief queries to deal with, after which Edmund Hall apologised to members for the technical hitch on the website caused by a change in the server system of the company hosting the site.

Jon Aitchison then reminded members to bring material for the mini-auctions held regularly at each meeting; and reminded members that, as he is UK Commissioner for the World Stamp Show in New York between May 28 and June 4 next year, if you are thinking of exhibiting, he will require all application forms completed by August 15.

There were two speakers for the meeting proper, both dealing with postage rates, so there was an interesting interlinking between Edmund Hall's land-based rates and John Sears' airmail equivalents.

Both had much fascinating material to show, Edmund explaining that he set himself the task of finding each of Egypt's definitives used alone on cover to express the correct rate echoing the stamp's value. It was, he admitted, much more difficult than he had expected, in part because at some periods there were no stamps issued to cover a specific postal rate, or the rate was increased soon after a stamp issue, meaning that proper use during the short interim period was difficult to come by.

He dealt with the Boy King and Marechal periods, noting that the internal postcard with a single 3m stamp is often very difficult to find – and that when the internal letter rate was increased from 5m to 6m in July 1940 there was no 6m stamp available. So until one was issued, in October of that year, a single-stamp franking was impossible. Usually 1m+5m was the answer.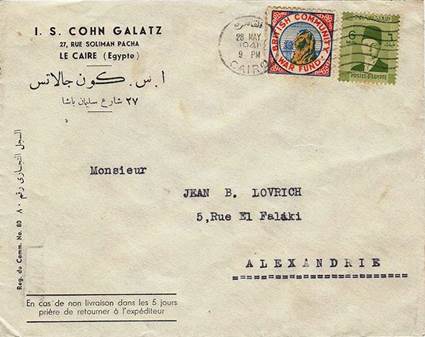 Printed matter rates are not easy to find either – the 13m external postcard rate is elusive, see QC244. The 17 mills Empire concession rate made air mail so relatively inexpensive that virtually no covers travelled by land or sea – but Edmund showed a pair of 17m covers with instructions "By surface" and "By sea mail"

With the 22 mills overseas rate, Boy King issues were printed to suit a rate for the first time, a fact that continued into the Republican era, when all sorts of "odd values" – 32 mills, 37 mills, were issued to reflect actual postage rates.

Edmund also noted that commemoratives used to cover "normal" postage rates are quite uncommon, and was able to show a 20mills Farouk 10th. Anniversary stamp accurately reflecting the 20 mills Express rate.

John Sears showed a wide range of air mail material, explaining that air mail rates were based on the regular surface rate plus an air surcharge, and that increases in "air mail rates" were in fact more usually a result of an increase in the basic surface rate, with the air surcharge remaining unchanged.

He showed a plethora of different rates, however, resulting from different routes flown by the different airlines causing myriad calculations in surface rates, which must have taken the poor postal clerk an age to work out – but stated firmly that all the rates on display had been checked and were correct!

1934 produced an oddity when mail to the UK via Imperial Airways was subject to a reduced rate of 15 mils all in, but whether this was intended to publicise air mail generally, or Imperial in particular, is not known.

John also presented a mystery, with a 1934 air mail cover from Cicurel, the giant Cairo department store (and therefore taken for granted that it was posted at the correct rate) to Sudan – but franked with 3x5 mills stamps when the rate should have been 5 mills for surface despatch plus 15 mills air surcharge by Imperial. But why send air mail at all? Imperial flew only once a week, and the surface mail (at 5 mills only) would have got the letter there earlier.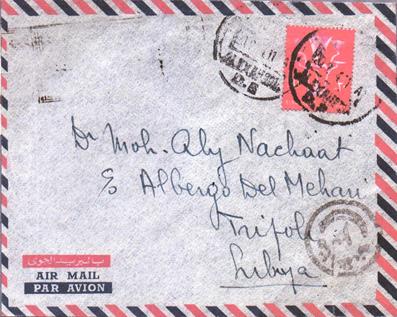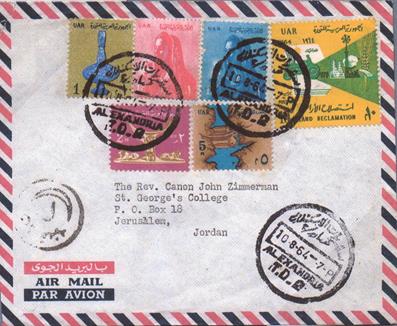 Both speakers were thanked warmly for their presentations, and the VERY mini-auction of only five items produced an equally tiny commission for the Circle. Must do better.