PRESENT: Twelve members were present; apologies for absence were received from seven members.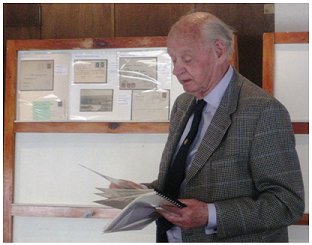 The Chairman welcomed members present at what he hoped would be a pleasant informal meeting but regretted having to start on a sombre note with the announcement that our recent volunteer as Auction Treasurer, Keith Pogson (ESC 120), had recently suffered a minor strike, and did not feel that he could continue as he had wished. The meeting wished him a speedy recovery and at the same time sought another volunteer for the important role. Unfortunately none was forthcoming.

On a happier note, the Chairman mentioned a letter from Peter Heim (ESC 384), our member in Nürnberg, who is gradually divesting himself of his astonishing collection of Egyptian postmarks, put together under the most painstaking of conditions - with magnifying glass and Arabic dictionary to hand - before today's comparative mass of cover material became available in Egypt. He wishes members to have first opportunity to purchase this material as a valuable addition to their collections.

The Secretary added some detail, offering to act as a go-between in putting interested members in contact with Peter, who lists the collections as follows:

1. Postmarks from ca 1872 to the Fifties from Aba el Waqf to Zizinia, 648 post offices on ca 4,500 stamps and pieces.
2. Postmarks type IX from Abshawai to Zifta, 226 post offices with 1,020 items, the basis of Peter's publication in QC 203 (December 2002, pp 84-93)
3. Arrival postmarks - 44 types on 385 stamps
4. Cash postmarks - 73 types with 1040 items.
5. Customs Duty - 21 types (plus four unrecorded) on 68 stamps
6. Delivery - 12 types (plus six unrecorded) on 28 stamps
7. Departure - 65 types (plus 11 unrecorded) on 1,050 stamps
8. Information/Imprimés - six types on 14 stamps
9. Parcels - 53 types (plus 23 unrecorded) on 504 stamps
10. Registered - 53 types (plus 46 unrecorded) on 1,040 stamps
11. Station - 24 post offices with 430 stamps
12. Traffic - 15 types (plus 29 unrecorded) on 360 stamps
13. Picture postcard from Alexandria, with Muharrem Bey 4 CDS to Belgium, and Arrival postmark of Alexandria, Type 6.55, with earliest date of 14 FE 11.

Collections 3-12 are based on the QC studies of the late Lars Alund, and are accompanied by detailed tabulated lists of every stamp. Any interested member should contact the Secretary, who also mentioned that our next meeting will be the first Circle meeting at the Royal Philatelic Society, where Dr Geoff Eible-Kay, FRPSL, will present "The Overland Route". He urged as many members as possible to attend, and assured them that details of where, when and how to reach the Royal will be communicated well in advance.

The Secretary appealed for material - typed lists, please, and as many illustrations as possible - for our next major Auction in the autumn. Closing date for lists is August 15, but the earlier received the better!

One new member was elected by the meeting - welcome, Stephen D Schumann, of California - but the Secretary noted a number of resignations and lapsings on account of non-payment of subscriptions that meant our membership numbers have dipped below 180 for the first time in several years. He urged members to seek some new blood!

The Treasurer reported a modest profit of some £281 from the February Live Auction, and the Editor/Webmaster urged members to provide articles for the QC, apologising in advance if the next issue appeared to have been the product of a very small number of overworked colleagues.

And so on to the meeting, which was intended as an informal display of recent interests. And so it proved. Both Peter Andrews and Mike Murphy chose to offer up a number of advances on the recent Instructional Markings listing in the QC (December 2012, pp 178-184). Both added previously unrecorded markings and extended the range of dates known: it is clear that this fledgling study is worthy of further work... please send in your recordings. Updates to the listing will be provided in the QC as often as warranted.

John Sears presented a selection of Station postmarks, and noted that although they were not all uncommon, and had been collected for many years, there still seemed an almost complete lack of understanding about just how the Station post offices worked within the Post Office as a whole. He was surprised, he said, to note that Station post offices were not listed in the Postal Guides, and wondered if this indicated a status somehow outside the Post Office proper. Again, members' contributions would be welcome.

Peter Grech presented material relating to the French Dardanelles force delayed in Alexandria on its way to Mudros, and particularly the Escadrille MFT98 (named for Maurice Farman - Turkey) air squadron that was intended for Tenedos. He found that on the island pilots made their homes in the crates carrying their aircraft - and astonishingly had found a postcard showing the crates themselves being unloaded in Alexandria.


Brian Sedgley's offering was a recent acquisition, a wrapper originally containing a dozen papers concerning the Department of Religious Endowments and displaying both a clear negative intaglio seal of the Giza post office and the Type II-4n postmark (Regie Poste Egiziane with the "Regie" cut out at Turkey's demand) dated 18 NOV (probably 1869). Remarkably, neither has previously been recorded. More work is required on the Arabic handwriting that embellishes this remarkable item.

Alan Jeyes showed two pieces of postal stationery - one with Egyptian lettering, the other without - bearing vignettes not of any Egyptian scene but of Imperial India. He imagined that these must have come from the de La Rue archives, and discussion ranged far and wide. And so it did after he showed an official cover from Cairo to Vienna dated 15 AU 14 which made reference to Martial Law. Members pointed out that it had been strongly suggested to Sultan Hussein Kamel, in Constantinople at the time, that he should not return. Britain's protectorate resulted in Fuad replacing him.

John Clarke showed several queries concerning the Second Issue of 1867, including a strip of four of the 1pi with guidelines at the top, and raised much more discussion by showing a series of Farouk Cancelled-back royal proofs on card with the "Cancelled" upright, inverted, upright reversed, and inverted reversed. Members could not work out how these varieties might have happened. Discussion was long, with some wondering if the Cancelled backs had perhaps been printed earlier in preparation for the stamp vignettes to follow on the other side.

Pauline Gittoes showed an unusual cover from New Zealand to Alexandria in 1941 with the colourful black and red 1929 Alexandria Pan African Games label tied by a censor marking on the reverse; and an FDC of the Farouk wedding of January 1938 with a Qubba Palace CDS.

David Worrollo offered up a plethora of recent acquisitions, bought as a single lot, ranging through mint stamps of the 1950s-1970s, with miniature sheets, via the 5x5 sheet of the 1958 Egyptian Industries issue to full panes of several stamps, some of which turned out to be from the Syrian branch of the UAR.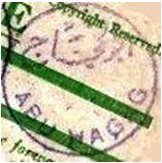 Edmund Hall's mini-display comprised a number of his characteristically illustrated pages covering material from German forces during the Second World War. It included a "liberated" British honour envelope dated 9 SE 42 used philatelically from a sergeant major in the HQ of the 102 (Luftwaffe) anti-aircraft regiment. It bears a Feldpost Kenn number 538, normally applied only to registered material, and alongside is a violet bilingual stamp of Abu Hagag, a small town between Mersa Matruh and Sidi Abdul Rahman, that raised much interest. It has no date-bar. So what is it? What was its use before the Germans captured it?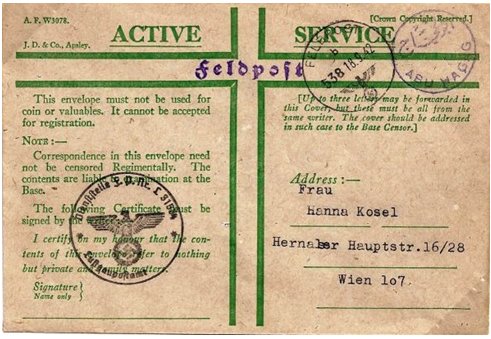 "Liberated" honour envelope with Luftwaffe feldpost and unwarranted registration
markings and a mystery violet circle from a tiny Egyptian town


Jon Aitchison had several queries on the stamps of the French offices, including doubts about millième surcharges with an underline issued in April and November 1921. Peter Grech was able to explain that though the underlined issue was acknowledge to be from November, it was later discovered that some of the April stamps had also been underlined. Jon was also able to display some forgeries - on the Merson 1f, 2f and 5f of the 1902-03 issue - that were discovered only in 1912 and found to be even better than the originals. The stamp dealer and forger Forbin had hired engravers who "touched up" printing flaws in the originals, believing them to be errors. The "perfect" stamps were an immediate sign of a forgery.

The Chairman closed the meeting by describing a very enjoyable afternoon. He hoped that members would continue to contribute in such an informal and fascinating style.