PRESENT: 16 members attended; there were apologies for absence from three members.

The Chairman welcomed members to an experimental morning meeting at Philatex stamp show in Central London – and despite the early start was surprised at a good turnout. "The meeting was well worth getting up at 6," said one member, Angela Child (ESC 645) – and she was right. The Chairman reported on the TPO study meeting in September and said how much that had been enjoyed and how much more work remained to be done. He was happy and confident that there was enough enthusiasm to make the project of updating Peter Smith's 1983 book a success.

The Secretary reported on progress in arranging next year's meetings list, and it was suggested that some meetings might be held at the premises of the Royal Philatelic Society - and perhaps even on a Sunday! After a good deal of discussion, the following list was agreed:

January 7 - Victory Services Club -Edmund Hall on Gaza and Sinai
February 25 - Stampex - AGM and Live Auction
April 21 - Philatex 12.45pm - Ten Sheets
July 7 - Services Club - Post-Monarchy 'bring and show'
September 29 - Stampex - Instructional markings 'bring and show'
November 3 - Services Club - Keith Pogson on Third Issue

The idea of the Post-Monarchy meeting, rather like last year's TPOs initial get-together, is to gauge members' interest and to attempt to publicise the possibilities open in collecting the post-Farouk period.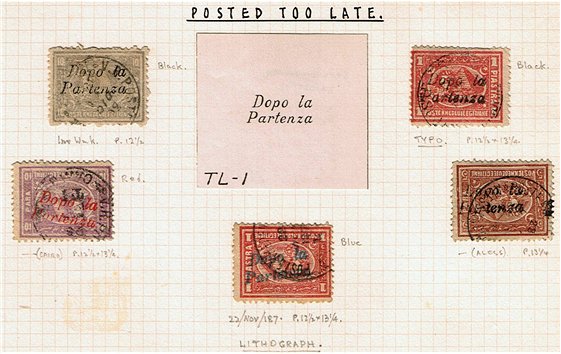 Five stamps with Dopo la Partenza handstamp (Brian Sedgley)


The Secretary announced that Keith Pogson of York (ESC 130) had kindly agreed to take over the Circle Auction's "financial" role played for many years by our President, John Sears, and paid tribute to his enormous hard work and efficiency – and great success in spotting the myriad errors made by the Secretary himself. Members thanked him with a sincere and sustained round of applause.

For next year we hope to expand the Auction list to a Live offering in February – lessons have been learnt from last year's initial event, and will be strictly augmented – plus two full Auctions in spring and autumn, the material perhaps extended by the possibility of two members submitting their collections for sale through our efforts rather than commercially. More of that later, when plans come to fruition.

The Treasurer reminded members that subscriptions for 2012 become due on January 1, a statement reinforced by the green sheet included in this QC – and asks again for all UK members at least to do it the easy way, with a standing order. No work for you, no work for the Treasurer. What could be better?

The Librarian announced that the recent Spink catalogue Pearls of Arabia – Egypt (October 18), containing some stunning lots, had been added to the Library, complete with Prices Realised.

The Editor/webmaster brought good news that the last QC (No 238), with a new printer and in full colour, had been extremely well received, a sentiment echoed around the room. Even better, he said, was that the printer's invoice was smaller than before. The meeting greeted the new format and the new printer with delight.

He also announced that another member's collection had been put up on the website for colleagues to enjoy and study – that of our Egypt Agent, Ibrahim Shoukry (ESC 423) on the Fourth Issue, and appealed to more members to offer up the same – all that is needed is a set of scans or photocopies; he does the rest, for the benefit of all of us.

The Webmaster also suggested that it might now be possible to digitize all back copies of the QC for placing on the website and available to all members. The cost of this great boon came in for discussion, and more estimates will be sought before any decision is made.

Nine of the members present had brought material to show under the Queries and Acquisitions heading, and many of the range of very high-quality queries will be published both on the website and in the QC. A brief summary: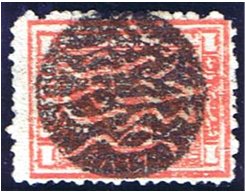 Edmund Hall (ESC 238): Showed several covers with Army stamps and a variety of tax rates, seeking elucidation for the variety in taxing. One cover addressed to Denmark was endorsed "via England" in an effort to overcome the "UK and Ireland" range covered by the stamps – but was taxed by the alert authorities.

Brian Sedgley (ESC 268): Was able to show a recently acquired card with five Third Issue stamps of various values with the very rare Dopo la Partenza (After Departure) handstamp applied in black, red and blue, and an 1874 1pi re with a perfect central strike of the intaglio negative seal (above) of Cairo (Masr). This is certainly one of only two recorded, and may in fact be the only one. Ex Kurt Wolfsbauer.

John Davis (ESC 213): Displayed a series of acquisitions, including an Egyptian Transit Company marking ex Samir Fikry; a French soldier's letter to Marseilles in 1826 apparently from Khargah Oasis; and a handwritten letter from Waghorn to David Roberts!

Mike Bramwell (ESC 449): Provided a fascinating mini-history of a Briton working in the Egyptian Ministry of Finance before and after the First War, including a massive single-sheet passport with GB consular adhesive and handstamp. He was bemused by the terminology Agency and Consulate.

Peter Grech (ESC 266): Wowed members with a series of French "Return to Sender" handstamps (used in France 1863-1982) as used in the French offices in Egypt, where examples from only Port Said and Alexandria are known; and then with a brief discursion on the use of Port-Said French Office stamps used abroad, remarkably on the Ile de Rouad off Latakia, and even more astonishingly in Ethiopia.

Peter Andrews (ESC 122): Showed several covers from his Civil Censorship collection with censor marks and asked members to contact him if they have covers with an N 76 marking; a figure 2 on stationery; or a four-figure censor mark followed by a space and 2/3.



John Sears (ESC 188): Showed a series of cards and covers connected to the Romanian Shipping Line between Alexandria and Constanta, as in recent QC articles, and asked whether members had any knowledge of use on any cover of the three-line Alexandria handstamp (left) mentioned by Richard Wheatley in his article (QC 234) as being in use from 1911 to 1923.

Alan Jeyes (ESC 293): Was able to display a recent acquisition in the form of a rectangular card with Arabic notation and four small hand-painted "stamps" apparently proposed as essays for a new issue of Postage Dues. They are undated but carry the name UAR with rates expressed in millièmes, so presumably some time around 1958. The Survey of Egypt handwritten note suggests that they are unsuitable because Postage Dues require the value figure to be much more prominent.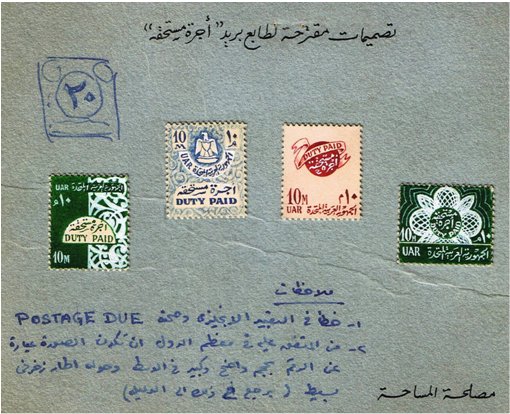 Essays for UAR Postage Dues (Alan Jeyes)


Atef Sarian (ESC 639): Showed a full mint pane of 25 (5x5) of the Farouk 18th Birthday stamp of 11 February 1938, control number A/38 as another recent acquisition.

The Chairman closed the meeting by wishing all members, present or not, best wishes for the holiday period and a Happy New Year of collecting in 2012.