PRESENT: Thirteen members and guests attended; apologies for absence were received from eight members.

Members were treated to a research lesson at the experimental meeting in the Royal Philatelic Society's Committee Room, which proved large enough to accommodate our needs, and was finally supplied with frames thanks largely to the good offices of Jon Aitchison (ESC 661). John Davis (ESC 213) provided an astonishing display of the Sphinx and Pyramid issue printed by De La Rue in London after the poor local printing of the Third Issue. The new stamps enjoyed a very extended life from 1879 until the Pictorials issue of 1914, during which the basic designs went through an extensive series of changes, not only in face value and colour, but also in watermark, type of paper used - and even currency when Egypt switched from paras to millièmes in January 1888.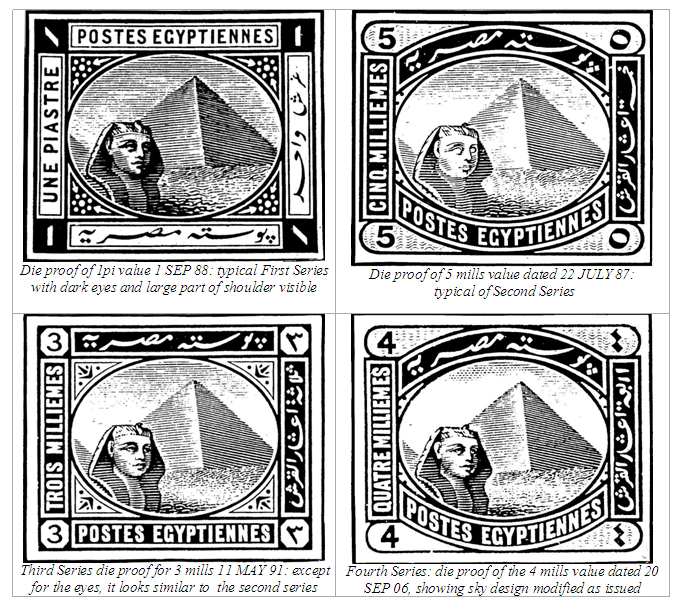 Die proof of 1pi value 1 SEP 88: typical First Series with dark eyes and large part of shoulder visible Die proof of 5 mills value dated 22 JULY 87: typical of Second Series Third Series die proof for 3 mills 11 MAY 91: except for the eyes, it looks similar to the second series Fourth Series: die proof of the 4 mills value dated 20 SEP 06, showing sky design modified as issued Designs also developed through the period, in points of fine detail, but John was able to trace that development, paying full tribute to the exploratory work of the late John Revell (ESC 78, who died in 1998), who was first to recognise and detail these differences, based on a series of illustrations of various die proofs (he was also first to recognise the two types of star and crescent watermarks, using the X-ray machine at his wife's hospital in those long-lost days before scanners!).

The full range of stamp issues was shown, including (almost all) blocks of four of all values of the 1879-83 issue and a 10-para green of December 1884 with narrow watermark, printed on paper remaining from the 10-pa grey. The 1884-88 issue, available until 1914, experienced considerable colour variations as well as the change in currency and the issue of chalk-surfaced stamps in 1906. John was able to also show a block of 60 of the 5-para and two blocks of 30 to illustrate how the sheets appeared from the printers.

In August 1893 the 2-piastre value, originally orange or orange-yellow, was reissued in orange-brown, and in this period of currency change a 10-piastre stamp was issued for the first time since the First Issue in 1866. This stamp is easily available loose and used, but is not easy to find on cover or parcel card.

The full range and extent of these various issues are explained (not entirely without complications) in any good catalogue, and John was able to show many rare and wonderful usages and a wide range of postmarks, including overseas usage, the 5 mills used on a soldier's rate card in 1897 and the 1-mill En Ville rate for Cairo and Alexandria.

Most fascinating of all, however, was the explanation of the design changes (see previous page), which took everyone by surprise in their meticulous attention to research detail. John listed John Revell's original observations as follows:

First series: Sphinx has darkened eyes and flat left cheek, shading of right cheek continues on ear lobe, much of right shoulder shown. The desert foreground is different for each value. Applies to: All stamps issued before 1888, and all 1,2 and 5-piastre values until replaced by the Pictorials in 1914.

Second series: Wide open eyes (represented by hook lines), chubby left cheek (upward curved shading), no shading to right cheek except curves near ear, less shoulder than in Series 1. Applies to: One, two and five mills, and new 10-piastre value

Third series: combination of Series 1 and 2 characteristics: eyes and left cheek as Series 1, shading of right cheek stops at ear, shoulder as Series 2, lines on head-dress slope less than on other millième values. Applies only to: 1892 3-mills stamp, issued first in marone and later reissued in yellow.

Fourth series: similar to Third series, but with sky modified (ie largely disappeared), lines above pyramid (except top two) interrupted by vertical cuts, lines at right of the pyramids do not touch its side, head-dress outline accentuated. Applies only to the new 4m value.

Earlier in the meeting members were told of the interesting new research project set up by Professor Sami Fereig, originally from Egypt, who now lives in Canada. Based so far on his own collection, he is exploring the post offices of Egypt, mapping their positions, exploring their histories and those of the town in which they are found, and detailing the various postmarks used at each office.

It is a massive piece of work, intended as an introduction not only to the stamps and postal history of the country but also to set the record straight in relation to the development and great advances made during the period of Mohammed Ali and his successors on the throne of Egypt. He seeks the help of all members in carrying through this research, and intends eventually to publish on CD with a view to a) enabling younger enthusiasts in Egypt and overseas to afford such a comprehensive body of work, and b) to allow almost instant updating as new material comes to light. For more details see his introductory article in the QC.

Members were happy to hear from Peter Grech (ESC 266) that the second volume of his masterly The French Post Offices in Egypt has now been published despite continuing problems with his sight. Detailing the period from 1876 to the closure of the offices in 1931, the second volume takes the total pagination up to 350, filled with Peter's typically detailed research and an astonishing number of illustrations of all aspects. You will find more details Wearing his Librarian hat, John Davis was most grateful to announce a gift from Peter Heim (ESC 384) in Germany of various valuable and valued items for the Library: they could easily form the heart of a research into postal history, post offices and place names, and can of course be borrowed from the Library.

The Secretary announced earlier that our President, John Sears, and our New Zealand Agent, Tony Chisholm, were both recovering from surgery, and the meeting wished them well for a speedy return to full health.

He announced that the Auction closing on October 5 had been completed entirely without hassle, with half of the 55 lots sold to 44 bidders (did you bid? 44 is not a lot out of 190 members!). All winners have their material, all vendors have their cash, and on sales of just under £7000 there is a grand total of £889.66 commission for the Circle. A close eye is being kept on postage costs.

He mentioned problems with shortage of volunteer speakers and other difficulties with next year's meetings list, and sought a volunteer to act as Meeting Secretary: a novelty for the Circle, but an interesting and valuable position. Partly as a result of the proximity of Christmas and Spring Stampex, a decision was taken to abandon the regular January meeting for 2014: this decision will be kept under review. The two-hour meeting at Stampex will take the form of a Live Auction (lists to the Secretary by January 15 please: we can take a maximum of 200 lots); and the AGM will move to May.

It will be accompanied by an experimental novelty in a mini room-auction: members attending may bring up to five items for sale, bidders will place the amount they are prepared to pay on a sheet, and at the end of the meeting winners will be decided. They will pay, in the room, in cash (no cheques, no credit cards) direct to the vendor, plus 10 per cent commission to the Treasurer, Brian Sedgley.

At the end of the meeting the Chairman, Peter Andrews, thanks John Davis for a comprehensive and entertaining afternoon's display, and wished all those present a happy and relaxing Christmas period. Members were generous with their applause for John.