PRESENT: Fourteen members were present; apologies for absence were received from eight members.

As it was the final meeting of the year the Chairman opened by wishing all members, whether present or not, a Merry Christmas and a Happy New Year, filled with collecting success. One achievement he was able to announce immediately was the rescue of the Circle's New Issues collection (see below). He mentioned the 2017 Spring Stampex (February 15-18) and its Ottoman-Empire theme, and encouraged all members to enter displays or competition entries.

The Secretary added some detail and emphasised that the closing date for entries was December 16 (see here for details if there is still time). The meeting accepted with gratitude the offer of Jon Aitchison (01279 870488; britishlocals@aol.com) to act as unofficial Circle "commissioner" for the exhibition: he will act as central liaison and receive entries from the UK and our colleagues in Egypt. One knock-on effect was that because entries are taken down from 3.30 on the Saturday, clashing with our meeting, it may be necessary to move our meeting to lunchtime: see the list here

Eighteen sellers and 44 buyers (out of 48) made Auction 55 a great success, with 294 lots (plus 95 L'OPs) sold and a sale total of £8,166.50, producing a commission surplus for the Circle, even after postage costs, of a record £1,037.61. There will be a Live Auction on February 18: please send lists of lots.

Three buyers in the Auction (totalling over £1,400 in purchases) were from the dozen or so "temporary" members stemming from our Facebook adventure (see next page), which we feel has been a great success. It will be interesting to see how many of the dozen take up full membership for 2017, and how many more might experiment with a renewed free offer. Two new members were elected: welcome to Christopher Smith of Minnesota and Andrea Giachino of Turin.

The Treasurer urged members to pay their subscriptions by the due date (January 1st) for 2017 rather than waste committee members' time with follow-up notices which this year ran through to August! Those with British banks should make out direct debits; and others must pay before the AGM or face immediate membership termination. There will be a series of follow-up emails between early December and February 18.

The Librarian reported the gift from Ted Fraser-Smith of an interesting book by Donald Gill, From Catterick to Suez, 1950-52, a National Serviceman who took part in the British action against Ismailia police station.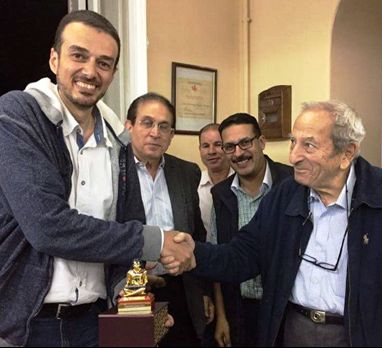 Meanwhile in Cairo … Amr El-Etreby (ESC 688, left) received the MacArthur Award for 2015 from our Egypt Agent, Dr Ibrahim Shoukry at the PSE HQ. Amr entered his article from QC 255 in Taipei and won a Large Silver medal with 75 points; the exhibit itself scored 83.

The first display, by Richard Wheatley (ESC 168) and titled baldly "Revenues", spread its wings far wider, starting with an examination of the "miry" No-Value stamp and its various issues and uses, including many documents showing the 1915 surcharges, use of OHHS overprints from 1907 to pay for registration where the No-Value stamp was used … and then took off into the world of the Salt Tax, showing wonderful displays of the stamps and postmarks, and a glorious series of fully complete Salt Tax forms in half a dozen variations. There was much discussion of why commission on a large amount of "rough" salt might be paid not in cash but in "table" salt.

There then followed displays of the wonderful colours and shapes of the Cigarette Tax stamps, with 125 companies named, each paying tiny fractions of a millième; and finally the Match Tax, including a 1954 match booklet with tax stamp adhering; and a wonderful tale about NOT buying a cigarette packet complete with stamp on a tour-group visit to Alexandria.

The second display of the day, from Jon Aitchison (ESC 661), was also greatly expanded.. from the original "Interpostals" to "Officially sealed mail", ranging far and wide through the circular paper seals, whose purpose, though gradually becoming clarified, still remains not entirely clear. He showed the first and second issues from the collection of the late Peter Smith, explained that Type VIIIA was exceedingly scarce, and described Interpostals on cover as "rare as hens' teeth". But he also questioned how it was that only five IP-sealed covers are known from the sinking of the SS Cairo – and yet vast quantities of somewhat bedraggled mail were recovered; and for good measure added that only one Type IX was known on cover.

From IPs he turned to sealing labels in general, from the early black on white and white on black Egyptian Government and Post Office labels used to seal entire letters through the entire gamut of 15 (or is it 14?) printings of the "Found Open and Officially Sealed" labels that came into use in 1906, showing a quite astonishing range of usages. Jon says that he is now reworking the accepted series of different printings and may have some surprises in store.

The afternoon was completed by the Deputy Chairman, who congratulated both members on outstanding displays off the beaten track, and exclaimed: "Now I know why I keep coming come to these meetings".

New Issues transfer completed The Circle is enormously grateful to Ted Fraser-Smith (ESC 238) and Cyril Defriez (ESC 172) for ensuring the rescue of our New Issues collection for which Cyril was responsible for well over 40 years. When he felt he could no longer continue, it was debated whether – especially in light of difficulty with deliveries from the Cairo Philatelic Bureau after the revolution – the collection should be sold. But in typical fashion Ted not only volunteered to carry on the work but to drive to Lancashire to collect the material. It is now housed at 8 Grisedale Road, Great Longstone, Bakewell, Derbyshire, and Ted will be delighted to answer any queries on 01629 640478. Any gaps will gradually be filled – and the New Issues collection will live on. Very many thanks to both members.
Facebook page makes good progress As of October the ESC Official Facebook page had 210 members (Hani Sharestan writes). More than half continue to share scans and posts on advanced topics such as new finds, postal history, varieties, early essays and much more. There was even a discussion about the whereabouts of the 1927 Statistical Congress cancelled-back issue that disappeared in 1954. The page has supplied ESC with ten temporary members plus 1 regular member. The goal is to try to convert most, or all, of the temporary members into regular members next year. Several took part in the latest ESC auction, contributing to the success of the group in general. If you're not yet a member of the Facebook page