PRESENT: Eleven members were present; apologies for absence were received from six members.

In the run-up to the celebrations of London 2010, coinciding with the Circle's 75th Anniversary, much of the meeting was taken up with discussion of the Circle's plans, details of which will appear in the December Quarterly Circular, and the knock-on effect these were likely to have on other meetings for the coming year. As a result, the specific programme was left incomplete.

It was decided, however, that despite the disappointing attendance at this year's provincial meeting, we would again try to hold a meeting outside London: the most popular option was York, to coincide with the July Stamp Fair, and so again we called on the generous services of Keith Pogson to make plans for a meeting on July 16. We implore all members to make every effort to attend; without a reasonable turn-out, it will not be easy to arrange any further meetings outside the capital.

As a result of London 2010 and our Luncheon on May 7 clashing with our normal AGM date, the AGM will be switched to the Stampex meeting on February 27, and members considered the possibility of holding a live auction of members' material at that meeting to boost attendances.

The Circle will hold a super-Auction - the only one of the year - to coincide with London 2010 in the week of May 8-15, and the organisers appealed to members to send in lists of material for sale, with as many illustrations as seems reasonable, to Mike Murphy by March 15 at the latest. We really hope that this Auction will catch members' attention and prove a boon for both buyers and sellers.

Similarly, to make the Anniversary issue an outstanding souvenir, the Editor is planning a larger than usual issue of the Quarterly Circular for March, crammed with short (maximum one page) articles illustrated completely in colour. He appealed to all members to write a single page, and the Committee hopes for as wide a range of articles as possible to reflect the enormous sweep of collecting/research opportunities that Egypt offers. We shall print many more than usual of this issue, and sell it at a nominal price at London 2010 to encourage non-members to take an interest.

The Librarian reported on the final sale of the late Robin Bertram's Sudan books via the Sudan Study Group Auction, and noted that Robin's books bought by the Circle at auction for £188 had produced, in addition to several important volumes for the Library, an income from sales of surplus material of some £431. Because the accounts had to wait for the SSG sale, the exceptional period of May 2008 to August 2009 produced an excess of income over expenditure of £250.85.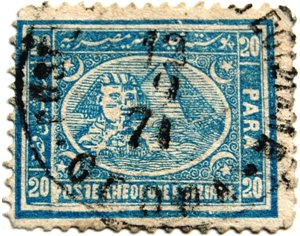 The Acquisitions and Queries section of the meeting was opened by Brian Sedgley (ESC 268) showing a selection of classical postmarks on the Second, Third and Fourth issues, including a very unusual all-numeral Gedda marking (see above) dated 12 9 71, together with others from such unusual sources as Volo and Rodi.

Mike Bramwell (ESC 466) illustrated three covers recently acquired on which he had queries - and was able to resolve all of them thanks to the wit and erudition of those present!

John Davis (ESC 213) displayed a number of recent acquisitions, including a Cyprus-UK cover with a Cairo R. D. /Foreign (21) handstamp that he had not seen before; a 40m Marechal with KES overprint and bars (are the bars genuine?); and a delightful small cover (with Royal Philatelic Society certificate) posted unfranked from Cairo to Port Said in December 1905.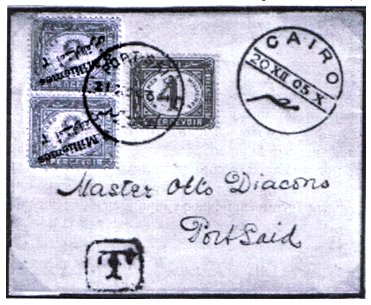 On arrival it received a 4m Due plus a vertical pair of the 3m on 2pi surcharged Due with inverted overprint. A remarkably clean and neat cover, echoing almost precisely one illustrated by Peter Smith, and showing most unusual usage of this invert which is normally found used only from Naqada.

The Secretary showed some of the material from the forthcoming Auction 48 that he happened to have in hand. The display was appreciated by members present, who remarked on the advantage in seeing "live" lots as opposed to mere illustrations. He also showed a number of blown-up illustrations of Fuad proofs and essays which had recently been bought in London and were now up for sale again. They received a good deal of comment within the room.