PRESENT: Fifteen members and one visitor attended; apologies for absence were received from four Officers.

The Chairman welcomed those present, including especially our foreign visitors, Sue Claridge (ESC 356), who recently survived unscathed a magnitude-7 earthquake in Christchurch, and Ronny Van Pellecom (ESC 618), our indefatigable Belgian researcher. There was also a sincere welcome for Tony Schmidt (ESC 198), returning to a meeting after a long illness.

It was our sad duty to say farewell to two excellent colleagues - Dennis Clarke (ESC 165) - "I feel that the Circle and I personally have lost a very great friend", said the Chairman - and Alan Berry (ESC 535) of New Zealand. Members stood in a minute's silence in their memory. They then offered sincere condolence to David and Ann Sedgwick on the recent loss of their daughter Kathryn.

The Chairman opened with a personal note of sadness and disappointment at the lack of response to our Cairo colleagues' invitation to members to attend and/or to exhibition at the local exhibition in November. He hoped that photographs and a report to be submitted by the President of the Egyptian society, Dr Sherif Samra, might encourage members to visit next year.


VOLUNTEERS WANTED


There is a vacancy for a Committee member, and both senior partners running the Circle Auction feel that it may be time to hand over to a younger member. Volunteers are sought for all three posts: the only requirements are energy, enthusiasm and an email account! There may be a positive advantage in one or more of these positions going to an overseas member. Please contact the Secretary if you need more information or wish to volunteer.


The Secretary the announced the meetings list for next year and described some changes intended by the Committee to attract members to the meetings. One novelty will be a "live auction" run by Edmund Hall to coincide with the Annual Meeting at Stampex on February 26 (REMINDER: Subscriptions for 2011 must be paid by that date). .

In an attempt to return to something like the "study meetings" of years gone by, two meetings will involve members bringing material to show on a topic for discussion. Those chosen for next year are TPOs (January 8) and a much-neglected area, post-monarchy material (September 17 at Stampex). Three meetings will be at the Victory Services Club as usual, though the hire of the room is growing perhaps too quickly; and in another novelty our final meeting of the year will be at Philatex, where the only available time-slot was 10.30am. We shall see how that one works out….

He then detailed auction dates for some outstanding material from our former members Anatole Ott (November 20, www.philea.se), Adel Farid (Nov 30-Dec 4, www.corinphila.ch), Luca Biolato (late October www.investphila.com and Nov 30-Dec 4 www.corinphila.ch) and Dennis Clarke (December 9 www.grosvenorauctions.com).

Membership applications were accepted from the following: Paul Quinn (West Yorkshire), Elaine Evans (Knoxville, Tennessee) and Amro Kandeel (Maadi, Egypt). Welcome to all of them!

The Librarian then considered n offer from Peter Smith (ESC 74) to hand over for the Record old correspondence from some of the Circle's founding members, including Dr Byam, John Gilbert and so on; and the Editor/Webmaster again urged members to visit the website, which is packed with good material but undeservedly receives precious little attention. Every effort will be made in the pages of the QC to advise members of new postings on the website in an effort to boost member visits.

John Davis (ESC 213) then opened the display section of the meeting by showing the second part of his Postage Dues, held over from York because of shortage of time. Dealing with "Indications of Postage Due", he showed two covers with a boxed "O" indicating invalid or valueless stamps: one with three Russian Levant stamps of January 1892 (1pi Due attached and cancelled in Cairo); and one with GB Jubilee 2 1/2d with boxed "O" cancelled in crayon (Oct 1893) and the stamp cancelled on arrival in London.

He detailed the nine boxed-"T" markings indicating "tax due" as recorded by the Circle, and showed three more as yet unrecorded. Moving on to foreign Dues placed on mail from Egypt, he showed a remarkable array of covers and cards sent unpaid or under-franked, and bearing the Dues of Austro-Hungary, Austria, GB (both before and after the introduction of postage due stamps), France, Greece, Italy, Switzerland, Transvaal, Unites States and Yugoslavia.

One remarkable cover posted unfranked in Port Said in March 1934 and addressed to a ship's passenger first received three sets of Postage Dues. First, a 10m Egyptian Due (cancelled with a boxed T), then the cover followed the addressee to Singapore (12c Due applied, returned to Port Said), and was finally readdressed to Southampton where on arrival 2 ½d in GB Dues were added.

The second part of the meeting, Acquisitions and Queries, was opened by Alan Jeyes (ESC 293), who showed a very recent acquisition in a very early Massawa cover franked at the unusual rate f 4 ½ piastres, comprising 2x2pi plus 5pa. Ronny Van Pellecom showed a wonderful money order receipt from 1989 with a beautiful strike of Cairo / M.P.I. (Mandats Postaux International), and Mike Bramwell (ESC 448) showed an Express Air Mail cover from Accra to Egypt signed Kingsford-Smith and two covers to the USA bearing paper stickers, one with the printed label "Dutiable", the other "Philatelic Mail / Duty Free".

The Secretary showed material from members and others, including especially a series of new discoveries by Hany Salam (ESC 580) of Cairo relating to the period of the Egyptian government takeover of the Posta Europea and how mails were carried and paid for before the advent of postage stamps in 1866. Included is a series of hafzehs and personal manuscript markings, together with a wide range of additional intaglio seals on document, including some previously unrecorded. He would be interested to correspond with any member who has material of this period: the jigsaw is gradually being completed, but the more pieces he has to research the better!

Also on display was a query about the mail route from China to Alexandria; a 1938 heavyweight cover from Salford, Lancashire, with 3s 6d in GB 1 1/2d stamps - and 554 millièmes in Egyptian Dues; and a Messina Bottle Post cover offered on an internet auction site as "never seen before, never to be seen again…" Needless to say, it did not sell at a starting price of $350, but Cyril Defriez (ESC 172) has kindly provided another example, a Khedivial Mail Line envelope with a different marking of the SS El Malek Fuad together with a SS Nefertiti handstamp.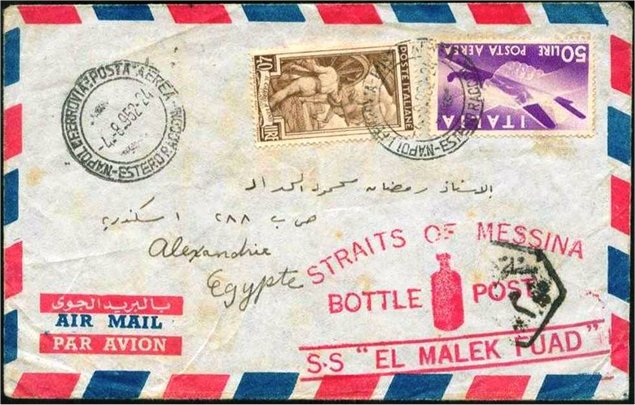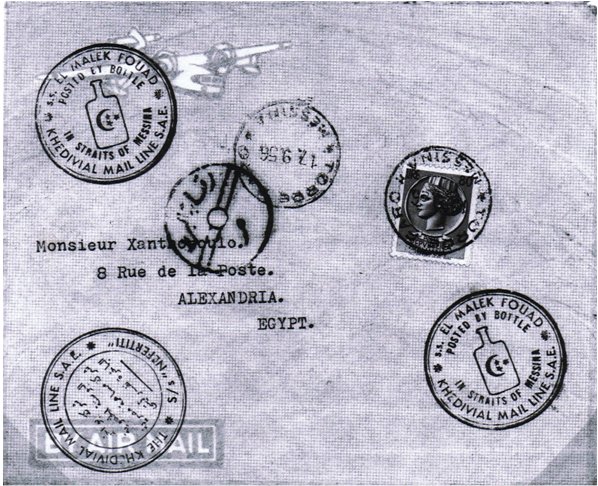 The Secretary also showed a series of sketches of the routes taken by Rural postmen (why were they drawn? By a postman training an assistant/newcomer? Or by the postman to prove to his postmaster that he knew his route?): they will prove invaluable to the Rural researcher. And he also showed a 1901 letter-envelope with the second Luxor Hotel CDS with a message from the hotel hall porter to the New York Herald newspaper saying that he regretted that he could no long continue selling the paper on their behalf - it was diverting him too much from his normal duties.