PRESENT: Sixteen members were present, and apologies for absence were received from nine members.

After a lengthy treasure hunt for an appropriate meeting room (we had originally been placed in a large room, together with the Aden and Yemen Society, without dividing barriers or frames!!), the Secretary was eventually able to organise a swap with the Bird Society - to whom many thanks - and the meeting started virtually on time. The Chairman welcomed a cheerful attendance with some wry comments about accommodation at Stampex, and was happy to see three overseas members, including Bart Belonje from the Netherlands, making his first visit. He was accompanied by more regular visitors in Vahe Varjabedian and Ronnie Van Pellecom.

The Chairman paid tribute to the late Lars Alund (ESC 105), a Circle Life Member who had been associated with us for well over half a century, and called for a minute's silence in his memory. A former Chief Judge of Sweden, Lars was well known to many of us as a passionate researcher into postmark types, and astonished all who were present by scrambling through the internal corridors of the Great Pyramid when we visited for Cairo 91. At the time he will have been in his mid-seventies. A brief mention of his passing was included in the September QC, and a more detailed memorial will appear in the December edition. The meeting passed its condolences to Lars' widow Monika.

The Chairman mentioned that a busy afternoon was in prospect, but found a moment to mention that our member Magdi Abdel-Hadi (ESC 445) had had his masterly Catalogue of Egyptian Stamps reprinted, and that it was now available for £40 including UK postage from Egypt. Please contact the Secretary for details.

The Secretary mentioned first his disappointment that we had run out of time to prepare an Autumn Auction, but added that there had been an overall profit of more than £650 on the Spring Auction No 50, thanks largely to donated material from Jack Graham (ESC 541) and good bidding on the late Peter Goodwin's material. As a result the new Auction Treasurer, Keith Pogson, has been able to hand over £1,000 from the Auction account to the General account. It was mentioned that costs of preparing and posting the printed version of the auction had risen to over £330: its continued publication is under review.

One new applicant was elected to membership - welcome to Robert Hothersall, of Norfolk - and then the meeting considered next year's programme in light of the excellent response received to the recent email seeking ideas. It was very quickly decided that we should take one of our meetings next year to the Royal Philatelic Society, and only after much discussion was it decided that we should decline an invitation from Midpex to attend on July 6. We had a good response from members willing to lead a meeting, but some manoeuvring was still required, and it was left to the Secretary to finalise the listing. This will appear on Page 3 of the December QC.

Then it was on to another of our experimental study meetings, this time on Instructional Markings, which provided a quite astonishing range of material, ancient and modern, and led to animated discussion throughout the room. We benefited from a mass of photocopies provided by Greg Todd, and the following members also displayed: Peter Andrews, Mike Murphy, Cyril Defriez, Paul Green, Mike Bramwell, Vahe Varjabedian and John Clarke.

The range of markings was impressive, from the bilingual Affranchisement Obligatoire, with postal material returned to the sender for additional stamps, to previously unrecorded city Rebut à Remettre a l'Envoyeur markings: dates for Mansura were extended, and new markings for Fayoum, Girgeh and Kafr el-Zayat were sighted or reported.

It has to be said that there was a certain lack of classical material on show - though Paul Green bravely tried to fill the gap with some stunning markings - and that the actual working of the system raised many a question. The Secretary spent the afternoon at full gallop trying to record dates for all the marks shown, and this listing will be posted shortly on the website.

The Circle appeals to all members who have material of this sort to join in the study and report early/late dates to the Secretary, and indeed to provide illustrations of any markings not mentioned in the report he will provide.

The Instructional Markings on view provided a range right through from the late nineteenth century to the early twenty-first, proving just how crucial they have been throughout Egyptian postal history, and how worthy of study. As the Chairman summed up: "The meeting showed an astonishing range of markings and postal materials. It proves that even the least obviously fascinating of covers can produce something of true interest."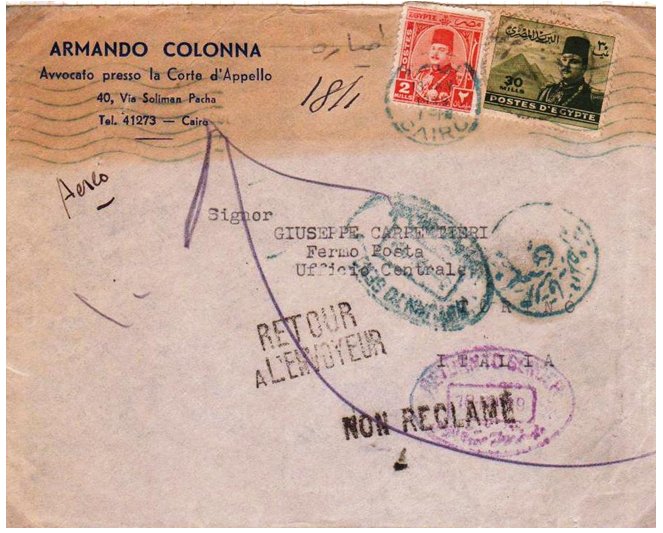 Cover returned from Turin, with Italian marking and oval bilingual Egyptian Return to Sender handstamps
in blue (3 AP 49) and purple (18 MA 49) - Peter Andrews collection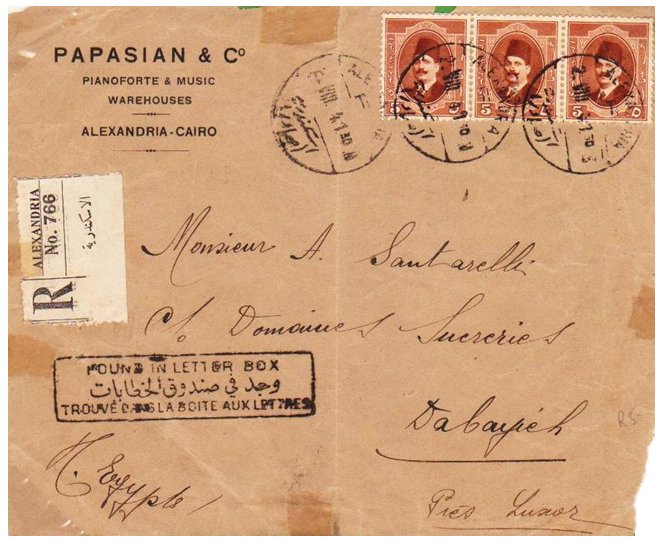 Registered cover marked Found in Letter Box - perhaps the office boy told to take it
to the registration desk instead popped it into the nearest postbox - Mike Murphy collection