Egypt:Stamps & Postal History XX - Commemorative Issues of the Monarchy p328/329




Inauguration of Port Fuad December 21, 1926


The dedication of the new port town, Port Fouad, opposite Port Said, and the concurrent opening of its post office in December 1926 was an occasion of much festivity and advance publicity30. The set of three Navigation Congress stamps and the 50PT. King's Birthday stamp were overprinted PORT FOUAD ("Le Caire" was blocked out on the Congress stamps). The overprinting was assigned to the Government Printing Works, which used lithography.

Of the three low values, 2,500 each were printed, and of the 50PT., only 1,520. The latter, of course, included the perforation varieties. The UP U was sent 440 sets.

The advance publicity combined with the small quantity of stamps to generate a riot wrecked the post office and caused three deaths. Some stamps must have been damaged to the process. However, most of the stamps were distributed to visiting dignitaries. A hand-stamped SPECIMEN exists, origin unknown (3 copies claimed).

Other than the perforations on the 50PT., varieties include the plate flaw's on the Navigation Congress stamps and one overprint variety in which "Le Caire" is blocked out by a double bar on the 15m. (perhaps because low centering hailed to cover the name sufficiently). One sheet of the 50PT. was found to have an inverted overprint and was horned before the date of issue31

Each of the corner stamps of the 50PT. has a corner pinhole used to achieve exact placement on the press28 and a tiny guide mark at one corner.

A large proportion of the stamps were used on covers cancelled on the first day, 21 DE. 26, and handed back to the owners. Used stamps, usually on such covers, are somewhat less scarce than unused.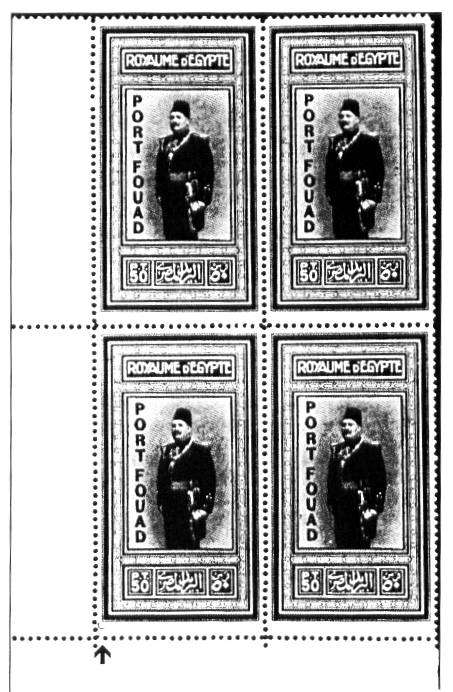 The small printings and relatively simple overprints led to forgery in a short time. The most deceptive of them were made on unoverprinted stamps on genuine covers that had been posted in Port Fouad on the first day (apparently in preparation for subsequent forgery). However, forgeries also exist on unused stamps. Some forgeries can be quickly eliminated by two tests. If the overprint shows the typical features of typography, indenting into the paper and ink squash at the edges of the letters, it is forged32 If the stamp is used it must bear the Port Fouad cancellation (Fig. 13), for the stamps were not used elsewhere. The more sophisticated forgeries require minute comparison with genuine reference examples or exceptionally good photographs of them. However, some forgeries can be detected by deviations in the lettering, especially of the 50PT32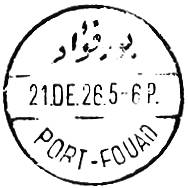 Fig. 13 The PORT FOUAD date-stamp and a corner block of the issued stamp (showing a registry guide mark for the overprint at the lower left corner

References:
28 I. Chafter, L'OP No.128 396-402 (Oct. 1974)
30 G. Khayat, L'OP No. 8, 5-6 (Apr. 1931)
31 J Boulad, L'OP No. 32, 57 (Apr. 1937)
32 A. Dazzi, L'OP No. 8, 7-8 (Apr. 1931), reprinted in No. 106, 29-30 (Jan. 1962)