Q40 June 11, 2007 member 595

I have an airmail block from the royal collection. It is affixed to the 1954 Royal Sale souvenir sheets and has the blue Pyramid and Palm authentication on the back. As you can see the block is misperforated. I do not see this stamp being listed in either Nile Post of Balian as misperforated. I shared this block with an Egyptian stamp expert but I am looking for any additional input or thoughts anybody has.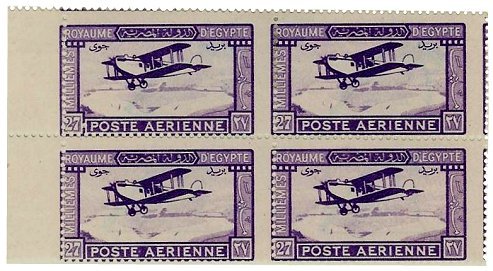 Reply October 14 2007 member 385

A sheet of 50 misperforated 27m. violet airmail NP A1 was part of the Royal collection; it was part of lot 376 of the 1954 Harmer's sale. It should have been listed in my catalogue - the Nile Post. I noted this stamp after I had published the book. This misperforated stamp is rarely seen. I purchased a block a couple of years ago.