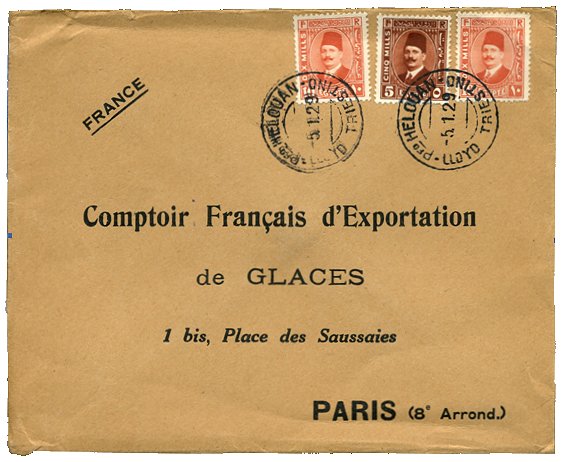 Reply December 6 2007 member 188

A number of Italian vessels had their own CDS`s in the pre war years, "Helouan" being one of of them .

UPU regulations (Stockholm 1924) say "prepayment is valid only if effected by means of postage stamps & according to the rates of the country in whose waters the vessel happens to be ", which means this item was put into the ship`s mail service soon after leaving an Egyptian port & cancelled as shown. The problem is that the I cannot reconcile the rate of 25m, the surface rate from Egypt to France was 15 mills for 30 gms, there was no air mail service at this time anyway !

The "Helouan", built 1911, originally owned by the Lloyd - Austriaco Line was transferred to Lloyd - Triestino, Italian flag, after 1918, and together with its sister ship the "Vienna" was engaged on the Trieste - Alexandria, Brindisi - Alexandria services

The ships cancels of the "Helouan", "Vienna", "Esperia" and "Ausonia" (all Italian) are most usually seen, but others do appear, and it must bve said that none are at all common.