Reply 1 member 239

I have a similar postmark on a 1946 cover. Sans the brackets on cash. I believe they are all the general cash postmark for Port-Fouad, there being no special handstamp for your cover and that of the Inauguration set.

Incidentally your cover is dated December 21 which is the date of issue of the inauguration set. The date of issue of the International set was December 9. I can only assume some enterprising philatelist posted this set when attending the issue of the Inauguration set. Therefore yours is not a first day cover althought still a very nice one.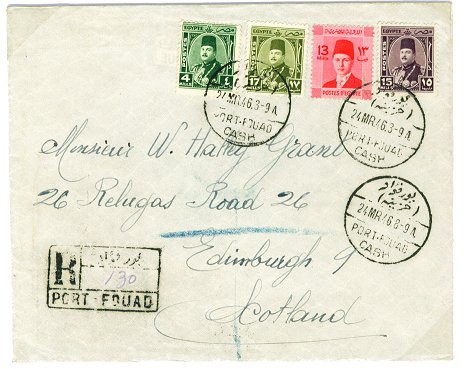 I have only ever seen a few postmarks of Port-Fouad, they perhaps should be considered one of Egypt's philatelic rarities. The other only other one I have seen is on this registered cover of 1930. I suspect that only items that had to be taken into the post office recieved a Port-Fouad datestamp, normal mail was possible bagged up and taken to Port-Said before being date stamped.