Q77 July, 2010 member 534

Vaillant Bey / Expediteur and Saiyida Zenab

I found this picture postcard on an auction website. It is in a relatively bad condition. It was sent with registration, apparently from SAIYIDA ZENAB. The registration postmark is not readable, but mentions CAIRE.

The date is August 26 1909 (26.VIII.09), and the destination is the city of Melun in France.

This card was not franked, neither for normal shipping, nor for the registered service. I cannot see any sign(s) of stamp(s) having been removed. In the top centre part of back of the card, there is the handwritten mention "Vaillant Bey / Expediteur" (Vaillant Bey / sender). Who can this "Vaillant Bey" be who can use an official (?) exemption of shipping charges? Incidentally, where is Saiyida Zenab? Is there any alternative spelling of this place name?


Reply 1 member 240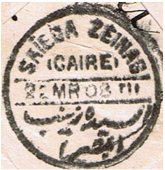 Saiyida Zenab is a district of Islamic Cairo across Qasr el-Aini Street from Garden City, where Old Cairo and Downtown meet, and is named after the city's patron saint, a granddaughter of the Prophet Muhammad. There are various transliterations of her name, including al-Sayyida Zeinab, Sayida Zainab and Saieda Zeinab (which is probably what the Registration cachet reads). I can illustrate another version of the postmark with a variant spelling 18 months earlier. The 1892 Postal Guide records the area as having a postbox (titled Saida Zenab) rather than a post office, but by 1897 it is one of 24 Cairo districts served by house-t-house delivery. In 1911 it is a Class 2 post office barred from specie, insured letters or parcels but able to sell international reply coupons and postal orders and had a savings bank section. Vaillant Bey is difficult. He seems to have been a collector of Egyptian antiquities, according to a 1992 French sale catalogue, but beyond that there seems to be no trace..