Q92 June, 2011 member 592 Early Airmails

A fellow airmail collector and member of British Air Mail Society, Terry Hare-Walker, who is not a member of the Study Circle, has two very attractive airmail covers with queries that neither of us can answer. One concerns a non airmail marking on the cover, the other query is about registered mail on the RAF Cairo- Baghdad service. I would be very interested in finding answers.

1. Registered cover from Cairo to Baghdad, 10 October 1923.

When the Egyptian Post Office announced on 5 January 1922 that mail would be accepted for the RAF Cairo-Baghdad service from 6 January, it was stated that no registered letters would be accepted. From when was registered mail such as this cover accepted? (In the other direction, from Baghdad, and also as far as mail from UK flown from Cairo was concerned, registered covers are known from early 1922 and were presumably accepted from the start of the service in November 1921).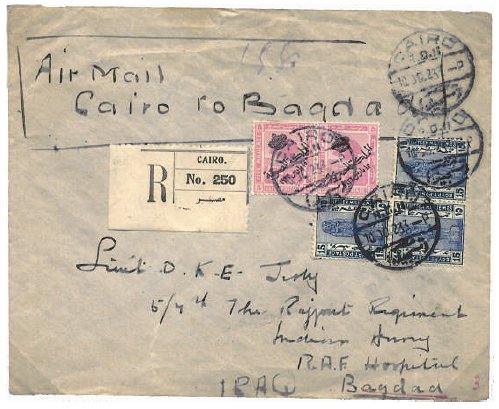 2. Registered airmail cover posted at Alexandria on 5 March 1931, sent by rail to Cairo from where it was flown on Imperial Airways first flight of the service to East Africa, as far as Khartoum.

The cover has the cachet 'Special Service" in English and Arabic, besides an airmail cachet and label. What is the reason for this? This cachet was used between May 1923 and January 1924 on mail for Beirut, carried by the Nairn Transport Company between Haifa and Beirut at a special surcharge. (From October 1923 the Nairn company operated the Haifa-Baghdad Overland Mail service). No special service fee appears to have been paid in this cover's franking for a registered double weight cover: surface 5m per 20gm x2, air fee 15m per 20gm x2, registration 20m: total 60m.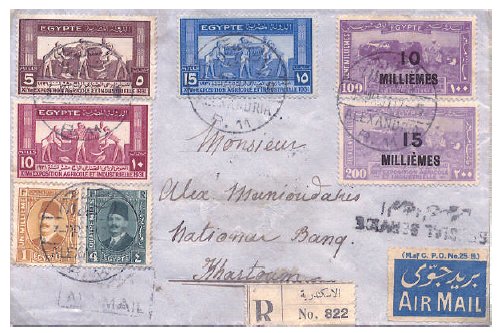 Reply member ESC 188 Insured cover Suez-Germany

I have been wrestling with the franking of Insured Mail for years, but I think that on this cover it may be calculated as follows, and have reconciled three or four Insured frankings using this method:

The weight of the item (which has to be stated on the front) is G 16 (G=grams), and this has to be

Translated into the basic surface rate, i.e. 20 mills
The ordinary Registration Fee has to be paid - 20 mills
The Insurance fee, on a packet with a declared value of less than 300 francs 25 mills

Making 65 mills in all. With 15m already affixed, it leaves 50m, but the space on the cover seems enough to accommodate a stamp the same size again, BUT the 50m value of the UPU set is a larger stamp! Or, did it have a 50m 2nd Fuad? This area is a minefield, because we see so few covers work with.

I think the pink label V 18 is a continuation number for Suez only, I have seen various examples for Alexandria which show different numbers. Apart from the "V" label, insured covers often have a red label (similar size to the ordinary Registered label) with INSURED and VALUE DECLARES below in black.

I am surprised the envelope seems to have only three wax seals: five were definitely called for, one at each corner & one in the middle. Ref - Egyptian Postal Guide, 1932.