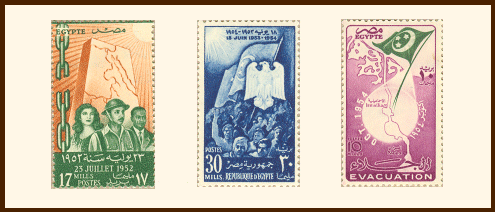 The revolution caused no radical change in the design pattern, with low-value issues in single stamps or small sets in one or two colours. The theme developed as the virtues of the revolution were extolled. Shown above are the first post-monarchy set marking the Revolution of July 23, 1952 (issued in November); the First Anniversary of the Republic (issued June 18, 1954); and the Evacuation of British Troops from the Suez Canal, issued November 1954.

The generally simple design pattern continued thoughout the Sixties and early Seventies, characterised by stamps of a single colour and without a border. Shown is the delightful Mother's Day stamp of March 21, 1957; the Industrial and Agricultural Fair, Cairo, issued on December 9, 1958; and the Asian Railway Conference, March 21, 1964.

From the end of the Sixties increasingly more colour was used in the designs and during the Seventies many attractive stamps were produced. The borderless stamp is still a feature of today's designs, as shown here in the right-hand stamp, marking the 50th anniversary of Al-Akbar newspaper, June 15, 2002.
| | |
| --- | --- |
| | Several commemorative themes run through Egyptian issues, one of which is the Festival stamp(s) to mark the month of Ramadan. The first, February 20, 1963, was based on the 4m definitive of the time depicting a mosque lantern (with colour changes). For the next four years single stamps were issued, each with its own Islamic theme. |
| | The Ramadan festival stamp for March 15, 1967, was changed to show a native flower and this floral motif was used annually up to 1977 |
| | For 1978, 1979 and 1980 scenes of local festival activities were shown, but the designs reverted to flowers for 1981. |
| | Florals were used until 1989 when a mosque lantern was again depicted. The 1990 design was also a flower but in 1992 a bird (hoopoe) was used, followed in 1993 by another flower. The 1994 set held a new departure with a se-tenant block of four birds. Since then flowers and birds have alternated, often in pairs, and in 2000 the issue comprised a block of four birds, as shown. |