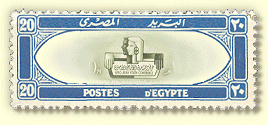 The Egypt Study Circle, formed in 1935, is devoted to the study of Egyptian philately. The Circle meets on Saturdays (as per programme), generally at 2 pm at the Victory Services Club, Seymour Street, London (near Marble Arch) or at Stampex.

The ESC magazine The Quarterly Circular is issued, by air for overseas, or by download to all members, four times a year.

The subscription for 2016 is due on January 1. For printed copies please pay £20 / €26 / $32 If you choose the online version please pay only £15 / €19 / $24 . If using PayPal please add an extra £1 / €1 / $2 to cover their fees (with Skrill there is no commission).

The ESC maintains a small library of books related to Egypt, some of them non-philatelic. These may be borrowed by UK members, who will be charged postage.

We organise two Auctions of members' surplus material each year, open to members only. A small commission is charged to aid Circle funds.

This website has a members-only section with various topics of Egyptian philately ranging from a stub for members to add to right through to a detailed study on a particular topic. Included are various data sheets and past articles.

The ESC welcomes new members who collect Egypt and wish to share their knowledge. Applicant members are reviewed at the next available meeting and almost invariably accepted into membership. Please note that members of the philatelic trade are not normally accepted unless they are bona fida collectors in their own right of Egyptian philately.

It is hoped that members will co-operate in studying various aspects of Egyptian philately and the section on queries and answers is one of the most important features of the QC. It is also appreciated, however, that all must start somewhere - so if you are a beginner and wish to lean about Egyptian philately then joining the Circle is an excellent place to start.

If you collect Egypt and are interested in joining, and thus enhancing your enjoyment of the hobby, please contact the Secretary (below), who will send an application form, which should be returned together with a year's subscription payment. I you are accepted as a member your name will be added to the mailing list and you will qualify to receive that full year's QC back copies. If it is possible to visit London to coincide with a meeting, just come along and meet the group before committing yourself: visitors are always assured of a warm welcome, either at the meeting itself or in the bar beforehand.


For further details or to apply please contact our sectary

Applications must be accompanied by the initial year's subscription
if you use the online application form we will email you with details
of how payment may be made, which includes paypal.
If you have any queries at all about the Egypt Study Circle
or about joining please e-mail the Hon Secretary