The Egypt Study Circle was founded in 1935 by the late Dr William Byam and 23 other enthusiastic students of the stamps and postal history of Egypt and the Sudan. Among them are to be found many of the names that came to play an enormous part in Egyptian philately, including G. Seymour Thomson (who carried the prime membership number ESC 1), Mackenzie-Low, Hubert Lowe, Glynn Grylls, G. Hearn, R. Thompson, W. C. Hinde, Seymour Blomfield, Jean Boulad, Charles Fox, F.S.Mumford and so on. Initial meetings were held four times a year in Byam's Harley Street practice.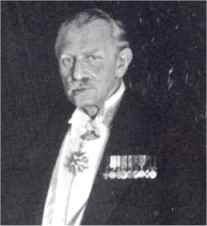 Lt. Col. William Byam

19 August 1882 – 25 October 1963

Members were each designated to undertake a study: later a meeting was held at which each study leader was able to report his findings. Some of these were then published in Stamp Collecting and The London Philatelist. But in 1938 it was decided to circulate the ESC's own publication and so the Quarterly Circular was born, initially to report the results of a research meeting of the full Circle, which was held four times a year. The ESC is thus certainly among the earliest of the study circles with its own magazine specialising in its own national area of specialisation.

It is interesting to note that in those early days the Circle had two classes of membership - Full Members at 7s 6d per annum and Corresponding Member at 5s (five shillings (5/-), or 25p in today's money). Dr Byam was also instrumental in the birth of OPAL (the Oriental Philatelic Association of London), which has a particular interest in those nations forming the old Ottoman Empire (now comprising parts of nine different countries), and that in turn led to the foundation of the Sudan Study Group.

By 1938 the Circle had grown to 33 members and a few more familiar names in the annals of Egyptian philately had appeared, including those of Douglas McNeille, John Danson and Ernest Kehr. By the twenty-first meeting of the Circle, on January 15, 1938, no fewer than 11 areas of study had been identified, and all but four had been entrusted to a member: this unique style of research continues even today. Some of the original studies have borne rich fruit over the years, notably Study III "The Postal History of the Canal Zone", entrusted to G. Worthington and (in Egypt) Jean Boulad, and Study VI "The Postal Markings of Egypt in the Nineteenth Century", entrusted to an American colleague, Seymour Blomfield.

The overall aim of researching the various studies was eventually to compile an all-encompassing encyclopaedia on Egyptian philately - there are many references in early QCs to "The Book". After several interim reports on a study had been made to the Circle and the research thought worthy of publication, the information was offered to the Philatelic Society of Egypt in Cairo - which then, as now, enjoyed a close and fruitful relationship with the Circle - for publication in its trilingual L'Orient Philatélique magazine. Interim reports were also circulated in the QC under the original editorship of F. Mumford, who used pasted-in real photographs as illustrations.

"The Book" never did materialise as a publication of the Egypt Study Circle, although the reports in the QC and elsewhere proved a firm foundation on which to build, and it is well to remember Dr Byam's own words in his Congress paper of 1938: "Don't forget, a Circle is formed primarily for the entertainment of its members and not for the value of its Reports, which may never be published." In any event, the Circle's dreams were brought to fruition in 1998 when its recently retired President, Professor Peter Smith, published Egypt: Stamps and Postal History. Modestly he says: "The writing has been an education!" but in fact his knowledge and all-round common sense have encapsulated more than half a century of the Circle's dreams in nearly 900 captivating pages.

Publication of Professor Smith's version of "The Book" does not mean, however, that research is completed. Egypt has an astonishing and astonishingly widespread philatelic history, and many and varied are the topics still under consideration. Certainly the meetings of late have been entertaining, and - following the pattern set down so long ago in 1935 - both informative and fun. The QC has grown in strength, appearing almost without interruption since 1938, particular under the editorship of Ron Potter and John Grimmer, both of whom held the post for many years. Also relations with our colleagues in Cairo and Alexandria are back at top level after recent visits to Egypt by our members which proved both educative and entertaining. We hope there will be many more of the same!